Watch A Very Gaga Thanksgiving
A Very Gaga Thanksgiving is a holiday variety special that was the creation of pop music star Lady Gaga. Lady Gaga actually conceived the special and directed it herself. The special was very well received by critics. Reviewers expressed surprise that Gaga could present herself in such a low key way. It was nominated for a Dorian Award for TV Music Program of the Year. The show succeeded in presenting a different side of Lady Gaga. It presented her in a more personal way than her outrageous performance personality.
The special featured interviews with Lady Gaga who spoke about her childhood, her life, her musical career, and struggles that she has had with her success as well as about her musical inspirations. The special was filmed in front of a small audience is a very quaint and personal auditorium. Lady Gaga welcomed several special guests to the Thanksgiving special. It featured appearances from Katie Couric, Tony Bennett, and Art Smith.
Lady Gaga performed nice songs for the special from her hit LP, Born this Way. The performances were a stark contrast from her very theatrical stage show and were acoustic and more personal variations of her songs. She performed Edge of Glory, Marry the Night, Bad Romance, You and I, Hair and Born this Way. In addition to playing her hit songs she also sang a duet with Tony Bennett, The Lady is a Tramp. She also performed covers of Nat King Cole's Orange Colored Skies and Bing Crosby's White Christmas.
In addition to the interview and performances, Lady Gaga also interacts with her audience and her guest. She and guest Chef Art Smith prepare a turkey and waffle Thanksgiving dinner. Lady Gaga didn't disappoint fans of her stage style show and still presented several outrageous outfits that her fans know her for.
1 Season,

1

Episode - Special Event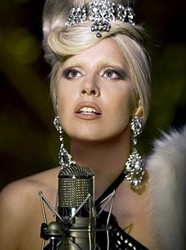 A Very Gaga Thanksgiving

Full Episode Guide
Episode 1 - A Very Gaga Thanksgiving

Enjoy musical performances and take a personal look into the life of Lady Gaga as she sits down with Katie Couric.
A Very Gaga Thanksgiving News
View More News