Watch A Very Gaga Thanksgiving
A Very Gaga Thanksgiving is a holiday variety special that was the creation of pop music star Lady Gaga. Lady Gaga actually conceived the special and directed it herself. The special was very well received by critics. Reviewers expressed surprise that Gaga could present herself in such a low key way. It was nominated for a Dorian Award for TV Music Program of the Year. The show succeeded in presenting a different side of Lady Gaga. It presented her in a more personal way than her outrageous performance personality.
The special featured interviews with Lady Gaga who spoke about her childhood, her life, her musical career, and struggles that she has had with her success as well as about her musical inspirations. The special was filmed in front of a small audience is a very quaint and personal auditorium. Lady Gaga welcomed several special guests to the Thanksgiving special. It featured appearances from Katie Couric, Tony Bennett, and Art Smith.
Lady Gaga performed nice songs for the special from her hit LP, Born this Way. The performances were a stark contrast from her very theatrical stage show and were acoustic and more personal variations of her songs. She performed Edge of Glory, Marry the Night, Bad Romance, You and I, Hair and Born this Way. In addition to playing her hit songs she also sang a duet with Tony Bennett, The Lady is a Tramp. She also performed covers of Nat King Cole's Orange Colored Skies and Bing Crosby's White Christmas.
In addition to the interview and performances, Lady Gaga also interacts with her audience and her guest. She and guest Chef Art Smith prepare a turkey and waffle Thanksgiving dinner. Lady Gaga didn't disappoint fans of her stage style show and still presented several outrageous outfits that her fans know her for.
1 Season,

1

Episode - Special Event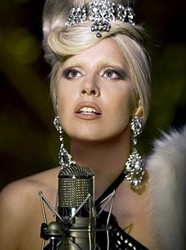 A Very Gaga Thanksgiving

Full Episode Guide
Episode 1 - A Very Gaga Thanksgiving

Enjoy musical performances and take a personal look into the life of Lady Gaga as she sits down with Katie Couric.
If You Like A Very Gaga Thanksgiving, Then Try...
A Very Gaga Thanksgiving News
Lady Gaga's New Fragrance Ad: Weird Even For Her
Is there even a line of "weird" demarcation where Lady Gaga is concerned anymore? She's even defying fragrance-promotion standards. Let's just acknowledge, straight away, that the fragrance industry has never been about as much a celebration of coherence in marketing as David Lynch's dream journal. So, we're already setting that curve plenty low. Just what, exactly, does one say about a fragrance that the designer claims contains a perfected blend of bodily fluids? "[Blood and semen] is in the perfume, but it doesn't smell like it," Gaga told "The Kyle and Jackie O Show" last year.
Lady Gaga to Tim Tebow: 'That's What the F**k a Champion Looks Like'
Take a college-style offense into the pros and actually win with it, and you're likely to get some attention. Win games as a quarterback despite some pretty bad passing stats, and you might earn some controversy. Pray on the field after you do just about anything, and you're likely to spark some debates. Such was the season of Tim Tebow, as the Heisman winner took over the starting job in Denver about halfway through the season. He quickly became one of the most talked-about figures in all of sports, earning both fans and enemies along the way to a spot in the playoffs and, ultimately, a win in the first round against Pittsburgh.
Lady Gaga Talks Marriage With Vanity Fair
Wow. If one asked Lady Gaga, she just might say that Jane Austen can pretty much suck it. She's known more for her blunt honesty about sex and sexuality through her music than talking "Sense and Sensibility," but that doesn't mean Mother Monster has never pondered what's at the bottom of love's deep sea. It's just that there are depths she's never had the chance to explore. "I have never felt truly cherished by a lover. I have an inability to know what happiness feels like with a man," the singer comes clean to Vanity Fair editor Lisa Robinson in the most recent Vanity Fair.
Ratings Upset? Charlie Brown Tops Lady Gaga
Winner, and still Undisputed Classic Prime-Time Holiday Special Champion...Charlie "The Bald Bull" Brown. Lady Gaga had hype in her favor coming into her debut 90-minute ABC special "A Very Gaga Thanksgiving" - she even released a surprise EP the day before featuring three of the show's taped performances - but America was down with the Brown. "A Charlie Brown Thanksgiving" aired drew 5.8 million viewers and a 1.8 adult demographic rating, while Gaga pulled 5.
View More News