Watch America's Lost Treasures
Series Length:
1 Season,

10

Episodes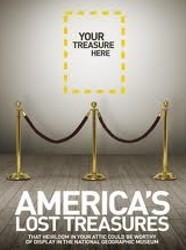 America's Lost Treasures

Full Episode Guide
Season 1
(4 clips available)
Searching for significant historical items across America.

Civil War relics, including portraits of Abraham Lincoln, are examined in Savannah. Also: Kinga investigates fossil teeth belonging to the prehistoric megalodon shark.

Episode 8 - Burbank, California

Curt and Kinga host an open call at the Autry National Center in Los Angeles, California, and check out a medal from the first U.S. World Expo, a Jack London writing tablet, an old Civil War drum, John Sutter's Gold Rush Nuggets, and a 15-million-year-old dolphin skull.

In Kansas City, Missouri, Kinga investigates an artifact by channeling her inner outlaw and visiting the boyhood home of one of the country's most notorious outlaws, Jesse James. Meanwhile, Curt's selections include a daguerreotype and a rare copy of the 1859 Kansas Constitution.

Episode 4 - Wilmington, Delaware
If You Like America's Lost Treasures, Then Try...