Watch Catfish: The TV Show
Dating has changed significantly due to the digital revolution; both positively and negatively. Catfish: The TV Series, a new MTV production, attempts to tackle the misconceptions and myths that surround online dating. Online dating website traffic has tripled in the last several years, and more people than ever before are meeting their match on the internet. For many people, it is easier to talk online than to meet people in person. In this way online dating has helped the socially shy reach their full potential, but there is also a dark underbelly of the online dating world and Catfish: The TV Series aims to flesh out those issues in documentary-style footage. Each episode follows one couple who has met online and begun relationships without meeting in person yet.
The chosen couple meet for the first time on the show, agreeing to allow their interaction to be filmed. These couples are filmed in their first interactions and general feelings are revealed in a private, interview-style discussion. While the show is off to a controversial start the documentary-style production promises to highlight the good and bad aspects of the online dating world.
The show is the brainchild of a filmmaker who documented his experiences in the online dating world. The show operates under the premise that some people online are honest and are exactly who they say they are, some fib and lie to appear mot appealing, while others are the polar opposite of their online persona.
One of the first episodes to air revolved around a couple who had yet to meet in person. They were carrying on a serious relationship strictly via chat and with the use of pictures. Sunny believed the man she met online was her soul mate, but when she appeared at the meeting her soul mate turned out to be an 18-year-old girl. While the first episode is troubling, it highlights one of the major pitfalls of online dating.
Each subsequent episode is planned to operate in a similar style. The episode will highlight a couple and their road to meeting. Some meeting are promised to be good, other mediocre and others, still, dramatic. Viewers are encouraged to tune in and comment on the lives and dating styles of the people depicted in the show.
Watch Full Episodes of Catfish: The TV Show

Season 5 Episode 102
Catfish: The Untold ... (41:00)
Season 5 Episode 101
The Ones That Got Aw... (41:00)
Season 5 Episode 20
Andrew & Zach (40:40)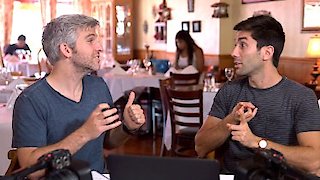 Season 5 Episode 19
Luis & Sydney (41:01)
Season 5 Episode 18
Catherine & Graham (41:00)
Season 5 Episode 17
Andrea, Alex, and An... (41:01)

Watch Episodes
Clips & Extras
Catfish: The TV Show

Full Episode Guide
Season
5
22 full episodes, 3 clips available
Episode

104

-

Hooked On Love

Nev and Max think about happy moments in the first five seasons, and countdown the ten most romantic occasions.

Episode

103

-

Top Ten Holy S... Catfish Moments

Nev and Max countdown the top unforgettably shocking occasions from nearly eighty episodes; sneak peeks from season six.

Episode

102

-

Catfish: The Untold Stories Part 8

This special episode of Catfish, The Untold Stories, includes surprising catfish tales from the recent past revealed by the persons who actually experienced them. Hosted by Nev Schulman and Max Joseph.

Episode

101

-

The Ones That Got Away

In this special episode of Catfish, Nev and Max reunite past Catfish and their victims who parted on bad terms to follow up on what life has been like since the show and to help them find a better resolution.

Episode

100

-

Best. Moments. Ever.

Featuring the most dramatic, hilarious, unbelievable, WTF moments in Catfish history.

Episode

20

-

Andrew & Zach

Andrew met Zac on Tinder and thought he'd found his soul mate until he received a text message from a friend revealing shocking new information. As Nev and Max look into the case, they suspect Zac could be keeping a very big secret.

Episode

19

-

Luis & Sydney

A young man wants to verify that the down-on-her-luck single mom he's fallen for is legit.

Episode

18

-

Catherine & Graham

Long Islander Catherine is head over heels in love with country boy Graham from Tennessee. She's ready to uproot her life to be a country girl with him, but Nev and Max discover Graham is hiding something.

Episode

17

-

Andrea, Alex, and Andrea

Fans of popular YouTube star, Andrea Russett, recruit Nev and Max to catch a potential stalker who is impersonating Andrea's family online. The guys soon uncover a web of fake profiles much larger than they imagined.

Episode

16

-

Candic & Titus

A married woman who's been trading intimate messages with a man she met online wants to confess her sins to her husband, but first learn who the paramour really is.

Episode

15

-

Spencer & Katy

Spencer reveals a shocking secret to Max and Nev. For the first time Catfish travels international to find the truth.

Episode

14

-

Larissa & Anthony

After being Catfished by her high school best friend, Larissa turned to her online friend Anthony for support. Feelings between them grew to love but after a few false moves on Anthony's part Larissa is worried he too is lying.

Episode

13

-

Lucas & Many

Episode

12

-

Vince & Alyssa

Vince can't shake his online-ex, Alyssa, whose stalking has caused problems with his girlfriend, Liz. Nev and Max help Vince confront Alyssa so he can try to salvage a future with Liz.

Episode

11

-

Paris & Tara

Paris seeks Nev and Max's help to investigate who's been catfishing her for the past four years. But as the guys investigate, they make a shocking discovery that casts suspicion onto Paris herself!

Episode

10

-

Kayla & Courtney

When Kayla was a toddler, her father killed her mother and then later committed suicide. Years later, Kayla was contacted by a woman claiming to be channeling her dead father's spirit.

Episode

9

-

Tyreme & Tomorrow

Tyreme and Tomorrow met online over 9 months ago. They instantly connected and Tyreme is ready to uproot his life to be with her.

Tattoo model, Joanna, was scheduled to meet her online love in the flesh, but a crazy night in Vegas spoiled the whole relationship. Now she's enlisted Nev and Max to help track down her former flame and make things right.

Ray is determined to finally meet his online love of four years, Lexi. But after learning that Lexi's sister has interfered in the relationship in the past, Nev and Max become more confused than ever.

Episode

6

-

Michael & Chanelle

Michael was too busy for a relationship, but love appeared in a DM. Chanelle is everything he dreamed of, but out of the blue she's disappeared, leaving only Nev and Max to help Michael find his missing love.

Episode

5

-

Jaylin & Ja'la

Jaylin is willing to sacrifice a lifelong friendship and promising videogame career to be with a woman he's only communicated with over the internet. Nev and Max help him discover that sometimes the truth is stranger than fiction.

Episode

4

-

Brendan & McKenna

Brandon is head over heels for McKenna, but multiple failed attempts to connect has left him wondering if McKenna is for real.

Episode

3

-

Leuh & Justin

Leuh has been head over heels in love with Justin since she first saw his picture. But after 2 failed attempts to meet up, she's desperate to figure out if Justin is real or if she's one in a long line of online lovers.

Episode

2

-

Jeanette & Derick

Shuntay is concerned that her mother, Jeanette, is being catfished after she starts discussing marriage and uprooting her family to be with a man who refuses to meet in person.

Episode

1

-

Dejay, Malik & Josiah

In the season premiere, Nev and Max bag two catfishes for the price of one when they discover that Dejay and Malik are being catfished by the same guy.
Season
4
24 full episodes
Episode

106

-

The Untold Stories Part 6

Three never-before-seen catfish tales.

Episode

105

-

The Untold Stories Part 5

Three never-before-seen catfish tales.

Episode

104

-

Catfish: The Untold Stories Part 4

Three untold stories shared by the people who experienced them.

Episode

103

-

Nev and Max's 15 Craziest Catfish Mom...

Take a dive into the Catfish archives with Nev and Max, as they count down their favorite jaw-dropping moments from the first three seasons of Catfish in this entertaining 60-minute special. Besides getting to re-live the shocks, surprises, and twists and turns that have been hallmarks of the series, viewers will also get a load of great behind the scenes insights from Catfish's intrepid hosts .

Episode

100

-

Where Are They Now?

The show catches up with participants from the first two seasons. Max searches for some answers on a road trip.

Episode

20

-

Brittany & Bryon

A single mother wants to find out the truth about the "Marine" she's fallen in love with.

Episode

19

-

Devan & Rylan

Episode

18

-

Hundra & Emily

A same-sex romance causes one woman to feel insecure about the relationship, so she seeks assurance that her online love is real before she comes out.

Episode

17

-

Ayissha & Sydney

A woman needs help with an online romance after finding out that the other party lied about her identity.

Episode

16

-

Andria & David

David is Andria's true love. Despite the fact that they've never met in over a decade, his passionate love letters and voice messages have a way of making Andria stay. Andria needs to know what David is hiding that keeps him away.

Thaddius sought refuge from his struggling marriage through an online relationship with Sara. But, when Sara starts telling strange tales of seizures and kidnappings, Thaddius starts to question her true identity.

Episode

14

-

Prophet & Trinity

Rapper R. Prophet is suspicious of Trinity, a model he met online.

Episode

13

-

Falesha & Jacqueline

Falesha's name and pictures were stolen by a fake profile that nearly ruined her life. She thought her troubles were behind her, but four years later her past comes back to haunt her.

Episode

12

-

Tiana & James

After a 3 year online relationship, Tiana took the plunge and moved across the country to finally be with the love of her life, James, and reveal her secret in person. But now that they are in the same proximity, James seems more elusive than ever.

Episode

11

-

Steven & Samm

In the season finale, a man wants to forgo college and relocate to California and support his online love instead.

Episode

10

-

Blaire & Markie

Nev and Max try to help Blaire and Markie make a love connection.

Episode

9

-

Jamey and Ari

Jayme and Ari made a love connection online. The two share everything together except for one big secret that Ari will only disclose on TV.

Episode

8

-

Whitney & Bre

Whitney met Brenell on an LBGT site four years ago and is head over heels in love, even though Brenell refuses to video chat with her. Whitney is desperate to find out why and hopes that the truth about Brenell is true.

Episode

7

-

Stephanie & David

Following Stephanie's parents' divorce, she starts to question whether she could ever trust a man in a relationship. Having met David online though she immediately develops a deep bond with him.

Episode

6

-

Felipe & Jasmine

Single father Felipe is ready to settle down with Jasmine. Although they've never met in person, they've been conversing through the internet for eight months.

Episode

5

-

Chitara & Priscilla

A woman is desperate for answers when her relationship ends unexpectedly and after she came out to her family.

Episode

4

-

Daisy & Marcus

Episode

3

-

Harold & Armani

Harold found his match with a beautiful jock named Armani. Although the two live in the same neighborhood, they've never met. Nev is joined by recording artist Angel Haze to help Harold finally get together with his girl.

Episode

2

-

Courtney and Isaak

Courtney broke things off with Isaak, a guy she met online, but Isaak won't let her go. Cassidy Wolf joins Nev to make sure Isaak leaves Courtney alone for good.

Episode

1

-

Miracle & Javonni

In the fourth season premiere, Charlamagne and Nev help a single mom search for a man she met online.

Episode

0

-

Nev & Max's 15 Craziest Catfish Momen...

Featuring highlights from previous seasons.
Season
3
11 full episodes, 1 clip available
Season
2
19 full episodes, 1 clip available
Season
1
13 full episodes, 2 clips available
If You Like Catfish: The TV Show, Then Try...
Most Popular Catfish: The TV Show Episodes
Season 5 Episode 102

Catfish: The Untold Stories Part 8

9/28/2016

Season 5 Episode 13

Lucas & Many

8/10/2016

Season 5 Episode 20

Andrew & Zach

9/21/2016

Season 5 Episode 18

Catherine & Graham

9/07/2016

Season 4 Episode 13

Falesha & Jacqueline

7/15/2015
Catfish: The TV Show Video Clips & Extras