Watch Family Guy
Series Length:
12 Seasons,

224

Episodes
Schedule:
Sunday 9:00 PM et/pt on FOX
Description:
Family Guy is an animated American comedy which features the ever changing tale of the Griffin family and the challenges they face as they attempt to live their lives in rural Quahog, RI. The show was created by Seth MacFarlane and has been nominated for thirteen Emmy awards during its run of over ten years. The show has been praised by critics for being inventive and fresh as well as labeled as repetitive and offensive by others.
The show revolves around Peter Griffin, the father of the family. Peter is a simple blue collar man who equates a lot of what he knows to television shows and previous experiences that he shares with the audience in the form of flashbacks. Peter is a fairly simple man in his approach to problems, for example, when the FCC began cracking down on television nudity, he simply decides to start his own network. Peter's approach usually leads to trouble though and he needs the support of his family to see it through. He is joined by his wife, Lois, a woman from a family of means who has tried to distance herself from her family's money for fear that it would corrupt the family she is trying desperately to raise. Lois teaches piano in addition to maintaining the household. Rounding out the household is their dog, Brian who is able to talk. Brian is Peter's best friend and intensely attracted to Lois. Despite the conflict of interest, Brian often does whatever is in the best interest of the family, even if it injures his own dreams. Brian attended Brown University but never graduated and considers himself an intellectual in the family. Brian struggles at times with his desire to lead an independent life and the limitations of being labeled as a family pet.
The Griffins have three children. Meg, the oldest and only daughter in the family, is socially awkward and frequently regarded as unattractive by the other members of the cast. She spends the majority of her time trying to fit in and be a normal teenage girl. Chris is the middle child and oldest son. Chris routinely battles with his weight and his less than stellar intellect. Chris idolizes his father, and will frequently try to impress or please him, even though he knows his father is not always making sound decisions. Finally, there is Stewie, the baby of the family who is clearly the most intelligent person in the household. Stewie is a genius who gets little credit for his intellect from his family. Stewie occasionally toys with the idea of ruling the world and sees his mother, Lois, as a hindrance to his plans. Stewie frequently dreams of eliminating Lois, but never follows through with the notion or falls short in his attempts. Stewie has created a weather controlling device, time machine and a mind control device while only being two years old. Stewie has a love-hate relationship with Brian, who is the only member of the family who recognizes that Stewie is intelligent, but frequently has conflicts with Stewie due to his own intellectual perceptions. In addition to the family, Peter has many friends in the town who make regular appearances including Joe Swanson, the paralyzed cop who does more than most able bodied men and Glenn Quagmire, the wacky neighbor who is a legend with the ladies in town.
Seth MacFarlane has gathered a diverse cast of Hollywood actors to voice the Griffin family and their neighbors. In addition to providing multiple voices himself, MacFarlane recruited veteran actors Seth Green, Mila Kunis, Patrick Warburton and Adam West to contribute to the cast. The show uses a wide variety of techniques to keep the viewer entertained. MacFarlane frequently employs original songs in the show in addition to the comic flashbacks and unusual situations. These methods have been widely praised by critics for the show remaining fresh and unpredictable. The end result is a show which finds humor in television, pop culture and every day life.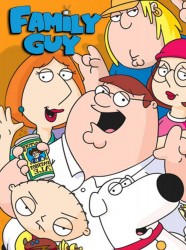 Family Guy

Full Episode Guide
Select the sources you want displayed in the episode guide. All others will be hidden.
211 Netflix Episodes

SUBSCRIPTION
193 Hulu Plus Episodes

SUBSCRIPTION
5 Episodes

FREE
215 Amazon Episodes

BUY / RENT
7 Hulu Episodes

FREE
5 Adult Swim Episodes

CABLE
7 FOX Episodes

FREE
215 Vudu Episodes

BUY / RENT
217 iTunes Episodes

BUY / RENT
Season 12
(55 full episodes, 83 clips available)
Episode 12 - Mom's the Word

With his mother's passing, Peter becomes close with her longtime friend, Evelyn, who tries seducing him. Stewie has a hard time as he understands death for the first time.

Episode 11 - Brian's a Bad Father

When Brian's neglected son Dylan shows up in town as a teen TV star, Brian is thrilled to be hired on the show's writing staff - instead of focusing on being a good father.

The Griffins honor the brothers grimm.

Episode 9 - Peter Problems

When Peter struggles to perform in the bedroom, he seeks help from Quagmire and Joe to help him get his mojo back.

Episode 8 - Christmas Guy

Episode 7 - Into Harmony's Way

Episode 6 - Life of Brian

Episode 5 - Boopa-dee Bappa-dee

Episode 4 - A Fistful of Meg

Episode 3 - Quagmire's Quagmire

Episode 2 - Vestigial Peter

Episode 1 - Finders Keepers
Season 11
(90 full episodes, 16 clips available)
Episode 23 - No Country Club For Old Men

Episode 22 - Road to Vegas

Episode 20 - Save the Clam

Episode 19 - Total Recall

Episode 17 - 12 and a Half Angry Men

Episode 16 - Turban Cowboy

Episode 13 - Valentine's Day in Quahog

Episode 12 - The Giggity Wife

Episode 11 - Brian's Play

Episode 9 - Jesus, Mary & Joseph

Episode 8 - Friends Without Benefits

Episode 7 - Lois Comes Out of Her Shell

Episode 6 - Joe's Revenge

Episode 5 - 200 Episodes Later

Episode 3 - The Old Man and the Big C
Season 10
(115 full episodes, 19 clips available)
Season 9
(90 full episodes, 19 clips available)
Season 8
(99 full episodes, 16 clips available)
Season 7
(82 full episodes, 11 clips available)
Season 6
(62 full episodes, 6 clips available)
Season 5
(90 full episodes, 2 clips available)
Season 4
(141 full episodes, 22 clips available)
Season 3
(110 full episodes, 31 clips available)
Season 2
(105 full episodes, 25 clips available)
Season 1
(35 full episodes, 14 clips available)
If You Like Family Guy, Then Try...
Family Guy News
View More News

Family Guy Video Clips & Extras