Watch Hoarders
Monday 9:00 PM et/pt on

A&E

8 Seasons,

109

Episodes - Canceled

August 17, 2009

Reality

10

/
Watch Full Episodes of Hoarders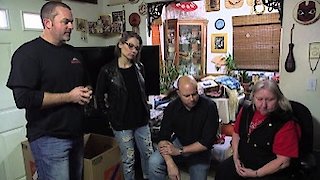 Season 8, Episode 16
Sandi & Vivian (42:32)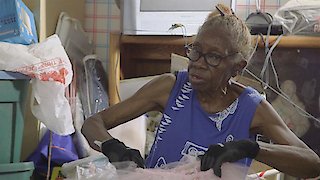 Season 8, Episode 15
Maggie & Ann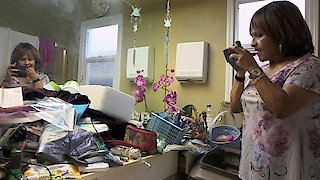 Season 8, Episode 14
Celia & Nathan (42:31)
Season 8, Episode 13
Sandy & Len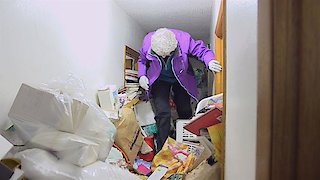 Season 8, Episode 12
Sybil & Ron (42:31)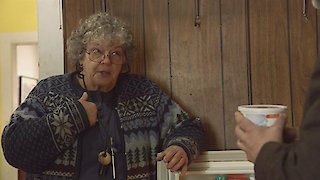 Season 8, Episode 11
Where Are They Now? (42:31)

Watch Episodes
News
Clips & Extras
Hoarders

Full Episode Guide
Season
8
16 full episodes, 6 clips available
Episode

16

-

Sandi & Vivian

A lady is on the verge of bankruptcy because of her gift hoarding habit and a grandmother may forgo custody of her grandsons.

Episode

15

-

Maggie & Ann

A lady's family intervene and evacuate her and her granddaughter from their house because of her shopping addiction and a former spa owner may loose her partner due to a hoard.

Episode

14

-

Celia & Nathan

A woman is in danger is losing her home due to hoarding shoplifted items and an illegal hoard of dogs and a man uses hoarding to cope with a lack of family support after he came out as gay.

Sandy's sister, Nona, owns the family home where Sandy has lived her entire life. Nona hasn't been inside the home in 10 years.

A woman resides in a backyard cat sanctuary while rodents infest her jam-packed house; the owner of a camera store repels customers with his hoarding.

Episode

11

-

Where Are They Now?

Updates on a few of the most unforgettable hoarders who appeared on the show.

Episode

10

-

Kathy/Elmira

A woman faces financial ruin after hoarding out her triplex and dance studio. Also: a woman's home is on the cusp of being condemned, forcing her family to intervene.

A widow begins hoarding because of kleptomania she developed after her husband's death, but the home owners insurance may discontinue coverage due to unsafe conditions. In addition: a lady's family warns they will call the SPCA because she has a habit of hoarding cats and dogs.

Episode

8

-

Peggy & Ed and Connie

A woman stands to lose her beloved home if she doesn't remove the filth and animal carcasses inside; a teenager demands that his parents clean up their stash of Halloween items and other assorted junk.

Episode

7

-

Dick and Karen

Episode

6

-

Dorothy and David & Doris

A house is presumed hazardous to live in and a lady must move out of her home because she doesn't have room for herself.

Episode

5

-

Ben and Robin & Kevin

A lady's children want her to move out of her car and purge her stuffed house; a woman from Napa Valley may lose her two young kids if she doesn't clean out her clutter.

Episode

3

-

Jackie & Richard

A woman from San Francisco owns $1 million in teddy bears; a man is begged by his relatives to clean up his home.

Episode

2

-

Roxann & Barbara

A young mother and former model is afraid Child Protective Services will intervene if she doesn't clean up her messy home; a woman must clean things up before the city steps in and condemns her home.

The fire department and health department order a woman who is afraid of germs to clean up her filthy, mice-infested home.
Laura's hoarding has taken over so much of her house that her partner has resorted to sleeping in the garage and her teenage daughter is forced to share a bed with Laura. If Laura doesn't clean up, her partner is threatening to leave her and sue her for full custody of their daughter.

Episode

8

-

Doris & T'resa

Doris has nearly hoarded herself out of her own home and resorts to sleeping on the patio due to the fact her hoard occupies every room in her house from floor to ceiling.

Episode

7

-

Brian and Coral

- Brian is the president of his condo HOA and sets the rules of upkeep for tenants but he lives in a hoard that would force any other tenant to be evicted. Coral has to choose between keeping her hoard or rekindling a romance.

Episode

6

-

David and Nora

David's three-acre hoard has been deemed a "blighted property" by the city and he risks losing his home. Nora has been hoarding to deal with the death of her son and has kept this habit a secret from her sisters for over a decade.

Episode

5

-

Cynthia and Ricky

Cynthia has a debilitating auto immune disease and lives in a hoard that could make her illness deadly. Meanwhile, Ricky sleeps in a house packed with paper and other flammables that are one spark away from an inferno.

Ruthann promised her cousin that she would turn their historic house into a bed and breakfast when it was sold to her but instead she has destroyed the crown jewel with her cat and antiques hoarding.

Episode

3

-

Michelle and Yama

Yama keeps hoarding to preserve the memory of her deceased mother while Michelle's obsession with shopping is putting her home in such a catastrophic condition that she faces losing her little boys to child protective services.

Two women are at a major crossroads in their lives due to hoarding. Joyce's husband is ready to break up their 38-year marriage if she doesn't clean up; Kimberly is facing eviction if she doesn't address her hoard.

Two women are at a major crossroads in their lives due to hoarding. Joyce's husband is ready to break up their 38-year marriage if she doesn't clean up; Kimberly is facing eviction if she doesn't address her hoard.
Season
6
13 full episodes, 13 clips available
Season
5
11 full episodes, 19 clips available
Season
4
17 full episodes, 13 clips available
Season
3
20 full episodes
Season
2
15 full episodes
Most Popular Hoarders Episodes
Season 3 Episode 19

Hannah / Kathy & Gary

1/03/2011
Hoarders Video Clips & Extras
Hoarders: Strangest Hoards of Season 8 | A&E
Clip (01:22)
Hoarders: Children of Hoarders | A&E
Clip (02:23)
Hoarders: Bonus Scene: Daughters to the Rescue (Season 8, Episode 9) | A&E
Clip (01:15)
Hoarders: Ellen Comes Clean About Her Kleptomania (Season 8,Episode 9) | A&E
Clip (01:46)