Watch Hot Rod TV
The television series is about cars that have been built by individuals and placed in the category of being called hot rods. Cars range from being legal to drive on the street to being raced at drag strips around the country. In episode one of season one, the cars being showed are all street legal cars and compete against one another on a quarter mile drag strip to find out which one is the fastest street car in the country. The main requirement is that the cars must use only regular pump gas which can be bought at any gas station any place in the country. All the cars are required to have everything on them to be street legal.
Dozens of cars are selected from all over the country by the owners sending in photos and a full description of their cars. Once the cars have been selected, the owners are notified and meet at Comp Cam in Memphis, Tennessee where the cars are inspected to be sure they are a street legal car. When the cars have been inspected, the gas tanks are drained of all the gas in them and refilled with 12 gallons of 93 octane rated gasoline.
Then the cars are driven to the Memphis Motor-sports Park which is 30 miles from Comp Cam. The drivers are given a map to follow the route they must drive to the drag strip and are told that they must stop at three different check points located along the way. A sticker is placed on each car to show that the car was at the check point, if the car has to stop for any reason along the route from Comp Cam and the drags strip they are disqualified and not allowed to race.
David Freiburger, editor-in-chief of Hot Rod Magazine explains what they look for when checking the cars.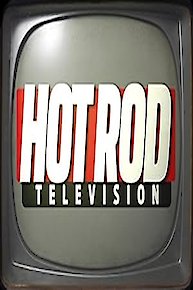 Hot Rod TV

Full Episode Guide
Everyday the staff at Hot Rod Magazine hears from its readers how fast their street cars are. So the staff had to finally thrown down the gauntlet and created Hot Rod Drag Week. " You think that you have a really fast street car? PROVE IT!"

Classic Recreations is a company in Yukon, Oklahoma that is known for their supercars, muscle cars, and of course their Shelby GT 500 CR's.

Episode

8

-

SkySkrape Builds a Hot Rod

Tim "SkySkrape" Katz is the third partner of Tap Out, a company that was started by selling T-shirts from the trunk of a car at mixed martial arts shows. Now it is a multi-million dollar company that sponsors some of the top NASCAR and NHRA teams.

Raybestos teams up with performance powerhouse Roush Racing and builds a 2013 monster Mustang to be given away to one lucky person.

Episode

6

-

Original Parts Group

Episode

4

-

Detroit Speed and Engineering

Episode

3

-

Honest Charley Garage

Episode

2

-

Sand Hills Open Road Challenge

Episode

1

-

Kindig-It-Design
Episode

13

-

AutoTrader Classic

Episode

11

-

Power Tour 2011

Episode

10

-

Raybestos GTO-R

Episode

8

-

Bigger Is Better

Episode

6

-

Pioneer's Triple Threat

Episode

3

-

Built by Craftsman

Episode

2

-

Historic Trans-AM

Episode

1

-

SEMA's Hottest Car
If You Like Hot Rod TV, Then Try...