Watch Ice Pilots
Series Length:
2 Seasons,

24

Episodes
Description:
Flying classic WWII-era aircraft, the Arctic aviators of Buffalo Airways take necessities all over Northwest Canada, no matter the weather conditions or stumbling blocks that come their way, they'll complete the mission.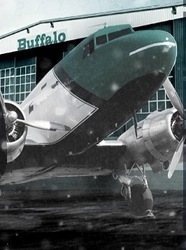 Ice Pilots

Full Episode Guide
First Aired: October 08, 2012

Rookie waterbomber pilot Scott gets his first taste of action when Buffalo responds to an emergency callout to fight fires in Alberta. Mikey and Rod think they hit the jackpot when they buy a million dollar firefighting plane on eBay at a bargain price. Joe marks his 50 years of flying by returning to the place he grew up in his historic Norseman. And Arnie shows up in Yellowknife to cheer on daughter Caitlin in a cancer fundraiser.

Episode 13 - Expect the Unexpected

First Aired: October 01, 2012

A faulty engine on the C-46 during the valley run causes problems. High winds wreak havoc for Devan and his crew on another C-46 mission to help clean up an oil spill in the Northwest Territories. Scott trains on a CL-215 waterbomber and visits his mentor Arnie, then joins the waterbombing crews when Buffalo is called in to fight a massive fire in Alberta.

First Aired: September 24, 2012

Mechanic Jimmy is sent to a northern mining camp to create an ice landing strip on a remote lake where AJ will have to land a DC-3 and the much bigger C-46. New co-pilot Tyler faces the ultimate test â€' flying the sked with Joe. And Mikey turns the Buffalo hangar into a playhouse for his niece's first birthday.

Episode 11 - The Doghouse

First Aired: September 17, 2012

Duane's choice to leave the Electra crew unsupervised, threatens the completion of a major contract, and could cost him his job. Young DC-3 co-pilot Graeme's chance to move up to a bigger plane is ruined when he falls out of favor with Joe.

Episode 10 - Push Comes to Shove

Episode 7 - The Finish Line

Episode 6 - Don't Muck with Chuck

Episode 5 - The River Lift

Episode 4 - The Right Stuff

Episode 3 - Under Pressure
Episode 10 - Race Against the Melt

Episode 9 - Peril in the Atlantic

Episode 8 - Coastal Catastrophe

Episode 5 - Danger Below Zero

Episode 4 - State of Emergency

Episode 1 - Nightmare Landing
If You Like Ice Pilots, Then Try...