Watch Kamen Rider: Dragon Knight
Kamen Rider: Dragon Knight is an American adaptation of the Japanese series Kamen Rider Ryuki, a tokusatsu series. The show has won a Daytime Emmy Award for stunt coordination and is chock full of the Kamen Rider series trademark action and adventure. Kamen Rider is a tokusatsu series, meaning that it is a live action television series that uses heavy special effects. The name tokusatsu literally means "special filming" in Japanese and is most commonly associated with Godzilla and other monster franchises.
Kamen Rrider: Dragon Knight is the story of a young man named Kit Taylor who, while searching for his missing father discovers the Advent Deck. The Advent Deck is a special deck of cards that allow the user to transform into Kamen Rider Dragon Knight. Kit joins forces with the Kamen Rider Wing Knight, Len to defeat the evil alien warlord General Xaviax who is intent on using the human race to rebuild his home world. Unlike most bad guys, General Xaviax uses manipulation, blackmail and empty promises of his victims greatest desires filled, to gain more slaves to do his bidding. Fighting against this force of evil, Kit and Len meet other Kamen Riders and learn the origins of the original Dragon Knight Adam who betrayed the twelve Kamen Riders set to protect the world of Ventara. Finally, a climactic battle between General Xaviax and his Kamen Riders and our heroes erupts in an all out battle to the death.
The international sensation continues with the tradition of amazing action Kamen Rider set when it first debuted. Kamen Rider: Dragon Knight is another example of American tokusatsu adaptations making a big splash both domestically and abroad. For anyone who's a fan of the Kamen Rider, tokusatsu television shows and movies or just looking to see some bad guys get beat up, Kamen Rider: Dragon Knight is worth investigation.
Saturday 11:30 AM et/pt on The CW

1 Season,

40

Episodes - Canceled

January 3, 2009

10

/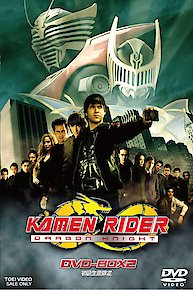 Kamen Rider: Dragon Knight

Full Episode Guide
Episode

40

-

A Dragon's Tale

Maya writes a book about the Kamen Riders. All the Ventarans are brought back to their homes, and the Earth Kamen Riders are returned from the Advent Void. Kit decides he wants to be a Kamen Rider for good.

Episode

39

-

For Ventara And Eart Pt. 2

Eubulon and Xavaix battle in Xaviaxâ??s control room. The Kamen Riders rush to join them, but must fight off monster after monster before they all arrive at their destination. Finally all 13 Kamen Riders, including the Ventaran Kamen Riders just brought back from the Advent Void, band together for their final fight against Xaviax

Episode

38

-

For Ventara And Eart Pt. 1

The Advent Master devises a plan for the Riders to destroy Xaviax once and for all. Maya and Trent sneak into Xaviax's lair to create a mirror portal for the Riders, while the Kamen Riders must battle a massive swarm of monsters Xaviax sends to stop them. They all must race against time before the transmitters reach full power and the Earth is doomed.

Episode

37

-

The Enemy Within

When Len and Adam are sent out to disable the final transmitter, Adam suddenly attacks Len and they battle as Kamen Riders, both transforming into Survive Mode. Kit and Kase follow after them, and the Riders learn that Xaviax has created an antivirus for the transmitters, making all their efforts to shut them down useless.

Episode

36

-

Dark Deception

Episode

35

-

A Hero's Fall

Episode

34

-

Back in Black

Episode

33

-

Out of the Void

Episode

32

-

Advent Master Returns

Episode

31

-

Xaviax's Wrath

Episode

29

-

Calm Before the Storm

Episode

28

-

A Dragon Caged

Episode

27

-

Attack of the No Men

Episode

26

-

Kame Rider Wrath

Episode

25

-

Dropping the Axe

Episode

24

-

Dark Temptation

Episode

23

-

Kamen Rider Siren

Episode

22

-

A Rider's Resolve

Episode

21

-

Strike's Ultimatum

Episode

20

-

Letter From the Front Line

Episode

18

-

The Brothers Cho

Episode

17

-

The Power of Three

Episode

16

-

The Hero of Gramercy Heights

Episode

15

-

The Many Faces of Xaviax

Episode

14

-

Xaviax's Promise

Episode

13

-

Thrill of the Hunt

Episode

12

-

Kamen Rider Sting

Episode

11

-

Vent or be Vented

Episode

9

-

Kamen Rider Thrust

Episode

8

-

Kamen Rider Camo

Episode

7

-

Friend or Foe

Episode

6

-

Kamen Rider Torque

Episode

5

-

The Power of Two

Episode

4

-

A Rider's Challenge

Episode

3

-

Kamen Rider Incisor

Episode

2

-

Contract With the Dragon

Episode

1

-

Search For The Dragon
If You Like Kamen Rider: Dragon Knight, Then Try...