Watch Mom Caves
Series Length:
1 Season,

12

Episodes
Schedule:
Saturday 7:30 pm et/pt on HGTV
Description:
Mom is the only one without a place of her own, it's time for her to get a mom cave. It's the ultimate space where she can relax with friends or family and do whatever she wants.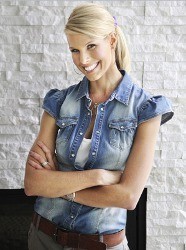 Mom Caves

Full Episode Guide
Episode 12 - Schoolhouse Charm

Former New York Giant, David Tyree, is known for his famous catch that won his team the Superbowl in 2008. But his main catch is his wife, Leilah. She home schools their six children and he wants to give her the ultimate learning center as well as a place to retire and relax.

Episode 11 - Library Lounge

Christina's husband calls Beth to give his wife her very own ladies lounge for her book club.

Episode 10 - Tuscan Kitchen

Kimberly has fond memories of being with her family in her Tuscan kitchen as a child while Matt wants to transform their kitchen into something more modern.

Episode 9 - Farmhouse Chic Backyard

The backyard of a house devastated by Hurricane Irene is turned into a chic farmhouse-like oasis that features a fire pit made out of stones from the original structure.

Episode 8 - Champion's Cottage

Episode 6 - Salon Splendor

Episode 5 - Nantucket Kitchen

Episode 3 - Maui Retreat Master Bedroom

Episode 2 - Moroccan Lounge

Episode 1 - Celebrity Master Suite
If You Like Mom Caves, Then Try...