Watch Split Ends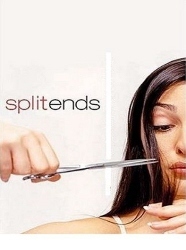 Split Ends

Full Episode Guide
Stylist Symantha is on the war path after she goes down during a challenge--literally! See what has her fired up.

Episode 7 - Kim "Tweet" Jones; Lensi White

Will a Christian stylist be open to trying pole dancing aerobics? See how things shake up during a girls' night out.

Episode 4 - Samantha Skudlarek; Alireza "Denis" C...

Alireza "Denis" Chetzan, a Persian diva from Brentwood, California trades places with Samantha Skudlarek, a spunky stylist living in Randolph, New York...the outskirts of Amish country.

Episode 3 - Martin Ormaza & Seth Bogard

A stylist from Boca Raton, Fla. switches places with a stylist in Oakland, Ca.

Episode 2 - Keleigh Laier/Kamryn Weis

Episode 1 - Shi Salon, St. Louis, MO; Elgin Charl...
Episode 12 - Lewis Powell and Clark Russell

Episode 11 - Richard Glass and Amanda Mock

Episode 10 - Tricia Delgado and Kookie Maffett

Episode 9 - Leslie Howard & Lee Stafford

Episode 8 - Estrella Elliot and Lauren Viccellio

Episode 7 - Amy Bland and Jake Desrouchers

Episode 6 - David Lujan and Caitlin Richardson

Episode 5 - Rachael Epstein and April Petty

Episode 3 - Christian Rae & Candace Mullins

Episode 2 - Hsblady Guzman & Danya Gamba

Episode 1 - Susan Summers & Mary Lamb