Watch Split Ends
Split Ends is a reality series set in hair salons. Each episode takes two salons and switches them up, allowing stylists to work in different shops to expand and showcase their talents. Everything is different, their environment, their co-workers, and the method of operation. Because the salons they choose are extremely different in style and operation, it adds to the challenge. Split Ends is suitable viewing for all audiences.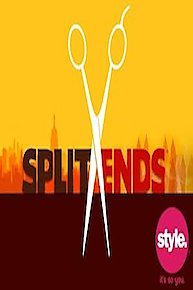 Split Ends

Full Episode Guide
Stylist Symantha is on the war path after she goes down during a challenge--literally! See what has her fired up.

Episode

7

-

Kim "Tweet" Jones; Lensi White

Will a Christian stylist be open to trying pole dancing aerobics? See how things shake up during a girls' night out.

Episode

4

-

Samantha Skudlarek; Alireza "Denis" C...

Alireza "Denis" Chetzan, a Persian diva from Brentwood, California trades places with Samantha Skudlarek, a spunky stylist living in Randolph, New York...the outskirts of Amish country.

Episode

3

-

Martin Ormaza & Seth Bogard

A stylist from Boca Raton, Fla. switches places with a stylist in Oakland, Ca.

Episode

2

-

Keleigh Laier/Kamryn Weis

Episode

1

-

Shi Salon, St. Louis, MO; Elgin Charl...
Episode

12

-

Lewis Powell and Clark Russell

Episode

11

-

Richard Glass and Amanda Mock

Episode

10

-

Tricia Delgado and Kookie Maffett

Episode

9

-

Leslie Howard & Lee Stafford

Episode

8

-

Estrella Elliot and Lauren Viccellio

Episode

7

-

Amy Bland and Jake Desrouchers

Episode

6

-

David Lujan and Caitlin Richardson

Episode

5

-

Rachael Epstein and April Petty

Episode

3

-

Christian Rae & Candace Mullins

Episode

2

-

Hsblady Guzman & Danya Gamba

Episode

1

-

Susan Summers & Mary Lamb