Watch Swamp People
The reality-documentary show called Swamp People takes viewers deep into the Louisiana swamps and bayous to hunt one of North America's most dangerous predators. Alligator hunting has been the way of life for the people, past and present, who live in the Louisiana swamps.
The documentary follows several individuals and families through the rigorous 30-day alligator-hunting season. Viewers get up close and personal with the characters, the alligators and the need for survival. A unique American story, Swamp People demonstrates what life is like for these proud people who are fighting to uphold an ancient way of life in a modern world. It shows how family traditions accompanied by hard work can prevail despite the many obstacles and trials that stand in their way.
Louisiana alligator hunting dates back 300 years in which the hunters earn most of their living during the 30-day season. In following the five teams, the documentary draws viewers into their lives as each team struggles to fill its allotted tag quota within the 30 days. By filling all of their tags, the teams are able to get more tags for the next season, in addition affording them a higher payout. Although "tagging out" is the main goal, the hunters are also looking to tag the biggest and meanest alligator of the season.
Not just about the hunt and catch of alligators, Swamp People is filled with information and history of the swamp and the proud people that lived and still live there today. Some episodes delve into the tradition of hunting the marshes of Louisiana. Some demonstrate how the viciousness of the weather and elements affect life in the swamp. Others focus on the social and sporting life including how the hunters supplement their income the remainder of the year.
Although some scenes are not suitable for younger audiences, the reality-documentary has acclaimed more than four million viewers, young and old, in it's last season. Swamp People can be seen on Thursday nights at 9pm on the History Channel.
Monday 8:00 PM et/pt on History Channel

8 Seasons,

141

Episodes - Currently Airing

August 22, 2010

10

/
Watch Full Episodes of Swamp People

Season 8 Episode 103
Ten Most Dangerous M...
Season 8 Episode 3
Breakdown
Season 8 Episode 2
Fresh Blood (42:00)
Season 8 Episode 1
The Hunt Begins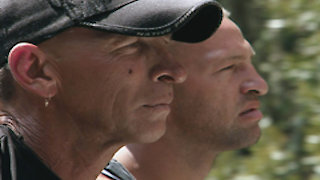 Season 7 Episode 13
End Of The Line
Season 7 Episode 12
Home Stretch

Watch Episodes
News
Clips & Extras
Swamp People

Full Episode Guide
Episode

109

-

American Enthusiast: Badlands

Extended episode with new footage.

Episode

108

-

American Enthusiast: Bulletproof

Extended episode with new footage.

Episode

107

-

American Enthusiast: Gator Slayer

Extended episode with new footage.

Episode

106

-

American Enthusiast: Ten Most Dangero...

Extended episode with new footage

Episode

105

-

American Enthusiast: Feast or Fawn

Extended episode with new footage

Episode

104

-

American Enthusiast: Twister Trouble

Extended episode with new footage

Episode

103

-

Ten Most Dangerous Moments

A countdown of the most dangerous alligator battles as well as a chronicle of close calls and near-death moments from the past seven seasons of the series, "Swamp People.''

Episode

102

-

American Enthusiast: Monster Men

Willie Edwards is blind-sided by the largest monster he's ever challenged.

Episode

101

-

American Enthusiast: Home Turf

Troy Landry remains behind on his tag count; Daniel, Joey and Dorian Edgar are prepared to stuff their boats with gators.

Episode

100

-

American Enthusiast: All Hands on Dec...

The King of the Swamp is driven to fill his 500 plus tags this season.

After a rocky start, Chase tries to redeem himself and get back into dad's good graces. Daniel sets a catch quota for his family to hit to stay on track. Jay Paul and Tommy jump a levee to tap new territory. Will breaks down alone in the heat of the blazing sun.

Chase fails to show up for his second day as captain. Dwaine struggles to live up to his dad's expectations. Bayou floods open up new territory for Frenchie and Gee. Glenn Guist returns to his house for the first time after a flood devastated his property, and must deal with some unwelcome guests.

Episode

1

-

The Hunt Begins

Facing the prospect of buyer shutting down early this year, Troy promotes Chase to captain of his own boat. Daniel Edgar calls in his son to help fill tags. RJ and Jay Paul hunt on separate boats for the first time ever.
Season
7
13 full episodes, 16 clips available
Episode

13

-

End Of The Line

The Landrys scramble to tag out on the season's final day, as R.J. and Jay Paul invade their territory. Also, the Edgars try to catch their final gator haul with help from friends.

Episode

12

-

Home Stretch

Troy and Guy hurry to fill tags as the end of the season looms near; Jacob and Chase have a surprise encounter fishing in their backyard; the Edgars hit a cold streak as their lines come up empty.

Troy and Guy pursue what might be the season's biggest gator; Jay Paul's bad call could cost him and his dad big cash; Daniel Edgar's fixation gets the better of him; and Glen Guist pulls a swamp trick to position his boat to a prime fishing area.

Episode

10

-

Cannibal Country

Troy faces a cannibal gator; Jay Paul closes in on taking charge of the Molinere procedure; Chase tries to redeem himself; and Glenn Guist fights "the leaning house of Louisiana."

Episode

9

-

Better Late Than Never

Troy keeps the code of the swamp and helps out an old-timer with his lines. Jacob's brother, Chase, is nowhere to be found, which delays the Landrys.

Troy and his family gamble on new territory; R.J. goes solo and discovers a truth; Bruce tests Ron's puppy; and Frenchy and Gee are in hog heaven.

Episode

7

-

Sweet Revenge

Troy utilizes a past family secret to alter his luck. R.J. and Jay Paul compete with the Edgar family as they hunt the same area, and Glen Guist practices "Swamp Medicine" and pays honor to his brother, Mitch.

Episode

6

-

The Party's Over

Daniel Edgar's boys show up late and hungover; Troy battles with a poacher; Ron pushes to get the puppy a second chance with Bruce.

Willie Edwards comes back and ventures out by himself, and it's war when he runs into a monster. In addition, Daniel Edgar attempts to bring down an enemy; R.J.'s season is in jeopardy due to an injury; and Frency goes after a creature that haunts his dreams.

Episode

3

-

All Hands on Deck

Episode

2

-

The Code Of The Swamp

After a horrible start to the season, Troy is desperate and does the unthinkable by bringing in outside help, despite objections from his sons and brother. Meanwhile, Ron is determined to turn his puppy into a gator dog; and an unorthodox duo known as "Salt and Pepper" enter the fray and hope to get their piece of the action.

Episode

1

-

High Water Hell
Season
6
21 full episodes, 37 clips available
Season
5
22 full episodes, 7 clips available
Season
4
23 full episodes, 1 clip available
Season
3
22 full episodes
Season
2
16 full episodes
Season
1
10 full episodes
If You Like Swamp People, Then Try...
Most Popular Swamp People Episodes
Season 8 Episode 1

The Hunt Begins

2/16/2017

Season 1 Episode 1

Big Head Bites It

8/22/2010
Swamp People Video Clips & Extras
Swamp People: Skeet Shooting, Round 2 - R.J. vs. Troy (Season 8) | History
Clip (02:48)
Swamp People: Gator Hunting Returns | New Episodes Thursdays 9/8c | History
Clip (00:42)
Swamp People: Skeet Shooting, Round 1 - Dwaine vs. Joey (Season 8) | History
Clip (04:33)
Swamp People: Season 8 - Official Trailer | Premieres February 16 9/8c | History
Clip (00:42)