Watch Talking Dead
In the second season of The Walking Dead, a new show called Talking Dead began airing as well. It started off with only thirty minutes of air time and was broadcasted live right after a new episode of The Walking Dead. Hosted by comedian and Walking Dead fan Chris Hardwick, the show is funny, engaging, and makes any Walking Dead fan want to go to the live show and sit in the studio audience.
Talking Dead started with thirty minutes per show, but since its success in the second season of The Walking Dead, and since fans wanted more time, Talking Dead now has an extra thirty minutes, bringing the live broadcasting to an hour. Since they gave Talking Dead more time, Chris Hardwick got more time to add things into the show.
Before Talking Dead got its well-deserved extra thirty minutes, Chris Hardwick would take questions from people calling in, take questions he received on Facebook and Twitter, and converse with whatever guests he had on the show about those questions. There was also a poll taken every episode, usually regarding important events that occurred in the newest Walking Dead episode. With barely time to spare, Chris did what's called In Memoriam, specifically for characters that died on screen and for Walkers that died in an especially gruesome way.
Now that Talking Dead has more time, Chris gets all that and more, which means, so do the fans. There's more time for more questions and phone calls. Now, Chris has people from the studio audience come up to the stage to ask questions. He also plays trivia games with the guests every so often and has something similar to In Memoriam, but it's for facts about the show. The guests featured on the show are usually cast and crew of The Walking Dead, like the creator Robert Kirkman and the design lead Greg Nicotero. There are also other famous guests who are big fans of the show.
Talking Dead is a must-watch for Walking Dead fans worldwide!
Friday 11:00 PM et/pt on AMC

4 Seasons,

62

Episodes - Currently Airing

9.1/10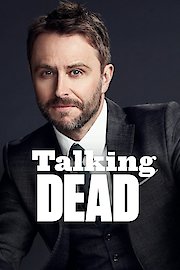 Talking Dead

Full Episode Guide
Season 4
(34 clips available)
The Season 5 finale, "Conquer," is discussed with Norman Reedus and Scott M. Gimple.

Host Chris Hardwick discusses tonight's episode "Try."

Host Chris Hardwick discusses tonight's episode "Spend."

The "Forget" episode is discussed.

Episode 11 - The Distance

Episode 9 - What Happened and What's Going On

Episode 3 - Four Walls and a Roof

Episode 0 - Season 5 Preview Special
Season 3
(49 clips available)
Season 2
(27 clips available)
If You Like Talking Dead, Then Try...
Most Popular Talking Dead Episodes
Talking Dead News
Comedian Artie Lange Dropped from '@Midnight' After Tweeting Jokes About Slavery and Sex with ESPN Reporter
Lange has refused to apologize for the string of NSFW jokes.