Watch Tanked
Tanked is a reality TV series that features brothers-in-law Brett Raymer and Wayde King, the owners of Las Vegas business Acrylic Tank Manufacturing. Acrylic Tank Manufacturing (better known as ATM) is one of the largest manufacturers and installers of customized aquariums in the world.
During the first part of the show, Brett and Wayde meet with the client to discuss what type of tank they would like. By just listening to the client's needs both Brett and Wayde will design the tank, pick out the fish and install the tank without anymore input from the client.
Once back at the shop the ATM team headed by shop manger Robbie Redneck Christieb start to construct the tank. Not only does the viewer get to see how the tanks are designed and molded but quite often the tanks include working pinball machines, old vehicles and kitchen appliances just to name a few.
The personality of the crew is also highlighted by the pranks that they pull on each other throughout the shop. This family run business also includes Wayde's wife (Brett's sister) and the general Irwin Raymer (Brett's father) which adds to the mayhem around the shop.
The cameras continue to roll as Brett and Wayde travel to their favorite fish suppliers to pick out the perfect fish for the tank. Fish and sharks from all over the world are shown with a description of the fish that they have picked and why they picked those species for the tank.
Next they show how they installed these unique tanks and finally they reveal the finished product to the client. ATM has designed one-of
Friday 9:00 PM et/pt on Animal Planet

11 Seasons,

113

Episodes

August 7, 2011

10

/
Watch Full Episodes of Tanked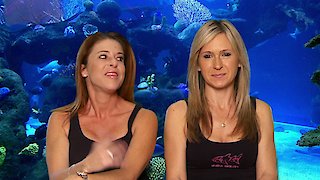 Season 11 Episode 21
We Fish You a Merry ...
Season 11 Episode 20
Tanks For the Help
Season 11 Episode 19
Thumbs Up!
Season 11 Episode 18
The Miami Heat Is On...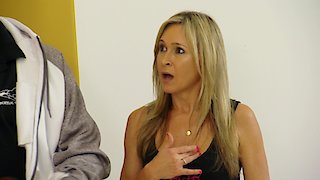 Season 11 Episode 17
Going for the Gold(F...
Season 11 Episode 16
Nacho Average Fish T...

Watch Episodes
Clips & Extras
Tanked

Full Episode Guide
Season
11
21 full episodes, 31 clips available
Episode

22

-

Merry Fishmas: Tanks Of Christmas Pas...

A snow-globe aquarium is wanted by the mayor of Henderson, Nev., for the city's yearly WinterFest party; the ATM crew get ready for their holiday bash. Also: Wayde and Brett contend for bragging rights to see who can construct the baddest tank, and the contest is judged by "Jackass" cocreator Jeff Tremaine.

Episode

21

-

We Fish You a Merry Christmas

Wayde and Brett team up with Australian Pop star, Alli Simpson to help spread some holiday cheer. They travel to Flint, Michigan to donate an incredible aquarium to the Children's Miracle Network and the Hurley Children's Hospital.

Episode

20

-

Tanks For the Help

Meet the Bottled Ocean team, they maintain dozens of aquatic habitats across the Sunshine state, from 360,000 gallon resort exhibits to home aquariums. Brett and Wayde join the Bottled Ocean crew and it's all hands on deck to repair a gator exhibit!

Episode

18

-

The Miami Heat Is On!

NBA center Hassan Whiteside wants a huge aquarium for his Miami home, but the 1500-gallon tank won't fit through his front door and has to be delivered on a barge.

Episode

17

-

Going for the Gold(Fish)

NBA all-star Paul George wants two identical fish tanks next to his indoor pond, and he hopes the job can be finished by the time he returns from the Olympics in Rio.

Episode

16

-

Nacho Average Fish Tanks

Snap On Tools is hosting their annual convention and needs ATM's help to wow their attendees. And, Las Vegas restaurant Nacho Daddy has demanded a custom terrarium.

Episode

15

-

Country Superstar Surprise!

Jason Aldean's wife has a surprise in store for him - an outdoors-themed aquarium that has to be built before he gets home from his tour.

Episode

14

-

Dj Of Dragons

Dj Steve Aoki wants an aquarium that features a three-headed dragon about to escape from the tank.

Episode

13

-

Real Aquariums of Beverly Hills

Erika Girardi from the hit TV show, The Real Housewives of Beverly Hills needs a tank. Also known as Erika Jayne, this Diva knows exactly what she wants and that's an octopus!

Episode

12

-

Fish City, Kid

Wayde and Brett are making a tank for Hip Hop artist Tyga. In honor of his hit single Rack City Wayde and Brett set out to found a way to fill a tank with cash. Will they leave Tyga feeling like a million bucks or will they come up shortchanged?

Episode

11

-

Fish Flop Hip Hop

Rapper, signer and producer Akon loved his custom African and Caribbean themed tanks for his new house

Episode

10

-

Internet Tank Sensation

YouTube superstar and prankster Roman Atwood commissions ATM to build an aquarium complete with his company name, Smile More.

Episode

9

-

Party Rockin' Tank

Redfoo of the musical duo LMFAO requests an aquarium that looks like a DJ booth.

Episode

8

-

Bellagio Makeover

The Bellagio Hotel and Casino in Las Vegas has plans for two large aquariums in their conservatory renovation.

Episode

7

-

Imaginarium Aquarium

The Imaginarium Science Center has asked ATM to design a GIANT ship shaped tank with a replica of the USCGC Mohwak inside. Creating the unique shape of this tank proves an ocean sized headache.

Episode

6

-

Prince Royce's Royal Tank

Latin music star Prince Royce spices up his Miami mansion with a custom aquarium made by ATM. Wayde and Brett struggle to make this tank as royal as possible but a last minute design change to the façade delays the build.

Episode

5

-

2 Chainz, 1 Tank

ATL's hottest rapper, 2 Chainz is in search of a Tanked out aquarium so he's contacted ATM! After Wayde loses some important measurements, he puts the pressure on Redneck to nail this tank and create a glowing Atlanta skyline underwater.

Episode

4

-

Prince Fielder's Big Hit

The Texas Ranger's biggest slugger, Prince Fielder wants a saltwater aquarium for his man cave in his home in Orlando, Florida, that is viewable from two sides.

Episode

3

-

Nick Carter Wants His Tank That Way

Backstreet Boy and Dancing with The Stars finalist Nick Carter wants the guys to build him an aquarium for his Los Angeles home with a paddle boat theme.

Episode

2

-

Johnny Damon is Expecting the Unexpec...

Two-time MLB World Series champion Johnny Damon and his pregnant wife plan a gender reveal party for the baby with the help of the team.

Episode

1

-

100 Episodes Strong!

ATM is excited to design a tank for WWE Superstar and reigning tag team champion Titus O'Neil! The guys will need work as a tag team of their town in order to deliver on their promise to build a University of Florida themed Gator tank.
Season
10
7 full episodes, 3 clips available
Episode

11

-

Flashback To The First

Episode

10

-

Holiday Madness

ATM gets a surprise call from their favorite customer, Shaquille O'Neal. The Retired NBA Super Star loves his first tank and is back for a second! Incorporating his love of Hookah and an Egyptian theme the guys build a tank fit for a Pharaoh.

Episode

8

-

Chicago Bull Boom Box

Chicago Bull's star Jimmy Butler calls Wayde and Brett to build him an old school Boombox aquarium that lights up AND plays music. But a tricky entryway throws a wrench in their plans. Oakland Raiders' Donald Penn is in serious need of a custom insert.

NBA All-Star John Wall asks ATM to build an aquarium shaped like a giant pair of dice. In Georgia they build a huge lighthouse aquarium for a local seafood restaurant that includes engraved dolphins.

Episode

6

-

Boyz Ii Men To Atm

Brett and Wayde must design and build a custom tank inside an old fireplace for the founder of famed R&B group BOYZ II MEN. In North Carolina they build a huge octopus exhibit for the Greensboro Science Center.

Episode

5

-

Tanks N' Roses

Grammy nominated rock star and former Guns N' Roses guitarist, DJ Ashba shows up at ATM and asks Brett and Wayde to build him a creepy skull themed aquarium.

Episode

4

-

Bill Engvall Here's Your Tank!

Renowned comedian Bill Engvall requests a Zen-like fish tank for his new office in Hollywoo but some firm weight restrictions throw a wrench in their plans. In Vegas, the guys build a tank with fish, lizards and even insects for the home of Penn Jillette.

Episode

3

-

Sherri Shepard on the Rocks

Famous TV host and actress Sherri Shepherd reaches out to Wayde and Brett to build her a simple but elegant tank for her home. While that's underway, a company named Rugged Ridge has the rest of the shop sweating over their most outrageous build ever.

Episode

2

-

Penn & Teller Monkey Magic

Wayde and Brett create a tank to honor Penn and Teller's 40th anniversary together. This double-sided tank will reside in their quirky backstage Monkey Room.

Episode

1

-

The Hoff Gets a Tank

In the season premiere, actor David Hasselhoff wants an aquarium that is reminiscent of his time on "Baywatch" and "Knight Rider."
Season
9
9 full episodes, 4 clips available
Season
8
13 full episodes, 8 clips available
Season
7
11 full episodes, 16 clips available
Season
6
1 full episode, 1 clip available
Season
5
11 full episodes, 5 clips available
Season
4
11 full episodes, 10 clips available
Season
3
6 full episodes, 2 clips available
Most Popular Tanked Episodes
Season 11 Episode 21

We Fish You a Merry Christmas

12/15/2016

Season 9 Episode 1

Howie Mandel is the Brains Behind ATM

5/29/2015

Season 1 Episode 1

Brett Takes a Dive

8/07/2011

Season 4 Episode 1

Pranks and Dranks

3/22/2013

Season 11 Episode 19

Thumbs Up!

11/19/2016
Tanked Video Clips & Extras
This Designer Fish Tank Has An Automatic Feeder! | Tanked
Clip (02:55)
Erika Girardi is Getting Tanked
Clip (02:59)