Watch Teen Titans Go!
Teen Titans Go! is the story of the adventures of Robin and his team of superheroes that are charged with the duty of protecting Jump City. Each of the Titans have their own distinct personalities, beginning with Starfire, an alien girl with energy powers and a serious unrequited crush on the leader, Robin. Raven is a teenage sorceress that has a deadpan, sarcastic attitude while not fighting criminals, yet her source of mystical knowledge is useful whenever her old enemies decide to drop in. Cyborg is a human/robot hybrid that has a laidback attitude toward life. He is a whiz with anything technology related; that includes building his own car from scratch. Beast Boy is green, very lazy and a bit of a prankster, often playing trick on the rest of his team mates. Whenever there is trouble Beast Boy can transform into any animal living or extinct to aide the team while fighting crime.
Some of the crazy misadventures, that can happen at a moments notice, can also happen when you're a teenage superhero. Whether adventures are in the city or anywhere else, including space itself can be fun while the team is also trying to save the world everyday. Sometimes a villain can hide in plain sight by having a business as a front and it is up to the Titans to investigate before it is too late.
The Titans all live together as roommates in the Titans Tower which is shaped like the letter T. While not fighting crime, the titans are often chilling out in their tower despite some of the craziness that might ensue because of their different personalities. Along with the occasional monster that is tearing up Jump City, the Teen Titans are also trying to grow up while living as roommates.
2 Seasons,

87

Episodes - Currently Airing

8.1/10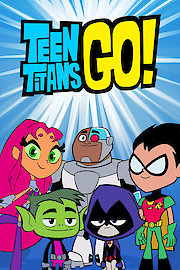 Teen Titans Go!

Full Episode Guide
Season 2
(118 full episodes)
When Raven chooses to hang out with Rose Wilson, a cool escaped criminal, the other Titans feel left out. To feel "less lame," they decide to go to Cool School.

Episode 39 - Video Game References

The Titans enter a variety of video game worlds.

Cyborg is looking forward to watching a marathon of 80's television shows, but he can't find the remote control.

Episode 37 - Two Bumble Bees and a Wasp

Robin tries to teach The Titans to respect money, but he ends up bee-ing the one who learns the lesson.

Episode 36 - Truth, Justice and What?

Episode 35 - Multiple Trick Pony

Episode 34 - Rocks and Water

Episode 33 - Tamaranian Vacation

Episode 32 - Let's Get Serious

Episode 30 - Real Boy Adventures

Episode 27 - Robin Backwards

Episode 24 - The Best Robin

Episode 23 - Thanksgiving

Episode 21 - Body Adventure

Episode 20 - Boys vs. Girls

Episode 18 - Serious Business

Episode 14 - Sandwich Thief

Episode 13 - Caramel Apples

Episode 11 - Love Monsters

Episode 10 - Slumber Party

Episode 8 - Salty Codgers

Episode 4 - Money Grandma
Season 1
(146 full episodes)
Episode 52 - Puppets, Whaaaaat?

Episode 45 - Little Buddies

Episode 38 - Breakfast Cheese

Episode 31 - Second Christmas

Episode 27 - Staring at the Future

Episode 25 - Starfire the Terrible

Episode 22 - The Left Leg

Episode 21 - Colors of Raven

Episode 19 - Burger vs. Burrito

Episode 18 - Artful Dodgers

Episode 16 - Staff Meeting

Episode 15 - Meatball Party

Episode 12 - Tower of Power

Episode 10 - You're Fired

Episode 9 - Girl's Night Out

Episode 6 - La Larva Amor

Episode 4 - Dude, Relax! / Laundry Day

Episode 3 - Double Trouble / The Date

Episode 2 - Driver's Ed / Raven's Daddy Dearest

Episode 1 - Legendary Sandwich / Pie Bros