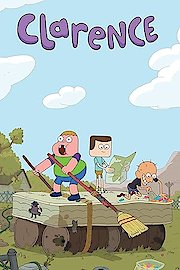 Watch Clarence
TV-PG
2014
7 Seasons
Clarence is an American animated television show that aired on Cartoon Network from 2013 to 2018. Created by Skyler Page, the show follows the adventures of an optimistic and quirky fourth-grader named Clarence and his friends as they navigate their way through childhood in the fictional town of Aberdale.
The show's main character, Clarence, is a kind-hearted and curious young boy who sees the world through his own unique lens. Spencer Rothbell voices the character, bringing his infectious energy and childlike wonder to life. Throughout the series, Clarence is seen exploring his environment, making new friends, and learning about the world around him. He approaches each new experience with an infectious enthusiasm, inspiring his friends and everyone around him to enjoy life to the fullest.
Clarence's closest friends are Jeff and Sumo, who are his loyal companions in all of his adventures. Jeff is a neurotic and intellectual character who constantly worries about the consequences of their actions, while Sumo is a wild and unpredictable force of nature. Katie Crown voices Sumo, and her performance captures his energy, humor, and occasional innocence perfectly. Together, the three friends navigate the challenges of growing up while enjoying the simple pleasures of childhood, like playing outside, building forts, and exploring their town.
One of the unique features of Clarence is its focus on the everyday experiences of childhood. The show explores a range of settings and scenarios that will be familiar to viewers of all ages, from school and family life to trips to the grocery store and playing in the park. Through these experiences, the characters learn valuable lessons about friendship, empathy, and personal growth. The show often tackles complex topics, like divorce and loss, but always with a light touch that is appropriate for its young audience.
Tom Kenny, who is known for his work on SpongeBob SquarePants, voices several characters in the series, including Clarence's father, Chad, and a number of other supporting characters. His talent for voice acting helps to bring the diverse cast of characters to life, each with their own distinct personality and quirks.
Visually, Clarence is distinctive for its bright colors, rounded character designs, and use of flat animation. The show's art style is reminiscent of classic cartoons like Peanuts and Rugrats, giving it a timeless quality that is both charming and appealing. The series also features a catchy soundtrack with original music by Simon Panrucker, which helps to add to the show's playful and whimsical tone.
Overall, Clarence is a heartwarming and delightful show that celebrates the joys of childhood and the importance of friendship. Its characters are lovable and relatable, and its stories are both entertaining and thought-provoking. The show has developed a dedicated following among both children and adults, thanks to its unique perspective and charming storytelling. If you're looking for a show that captures the magic of childhood, Clarence is well worth checking out.
Clarence is a series that is currently running and has 7 seasons (166 episodes). The series first aired on February 17, 2014.