Watch The Amazing World of Gumball
"The Amazing World Of Gumball" also known as just Gumball, was creates by Ben Bocquelet, directed by Mic Graves, and was aired in the United Kingdom on Carton Network. This show has a silly, slap stick humor to it that also teaches valuable lessons, as well as aims their goals to make children laugh. The main characters are the Wattersons family, Gumball, Darwin, Anais, Richard, and Nicole. They live in the good old town of Elmore.
Gumball the main character is a very loyal, kindhearted, and funny 12 year old boy cat. While Darwin who was formerly Gumballs pet goldfish who sprouted legs and began speaking human, was adopted into the family and is now Gumballs adopted brother. Since Darwin is New to the world he is still slightly naive. Together, Gumball and Darwin go on these adventures that often go wrong. When they do, they tend to try and blame it on someone else or cover it up. Although Gumball tends to pose as a bad influence on Darwin at times, Darwin continues to be loyal and often helps him out of bad situations.
Then there is Richard, the enormous rabbit who is the stay at home father. Richard tends to play a role in his sons misadventures, that is when he is not sleeping, often at times he doesn't even bother to get dressed. Richard cares deeply for his family but does not carry any responsibility and is not very smart. While Nicole, the workaholic, over stressed, cat mother holds most of the families responsibilities. She works at the rainbow factory and spends the rest of her time cleaning the house, cleaning up after her sons messes, and helping them out of tough situations.
Finally there is little Anais Watterson. Anais is the youngest member of the family, Gumballs 4 year old sister who is a bunny. Aside from her mother, Anais seems to be the second most mature member of the family and is also quite responsible. She often goes along with her brothers on there adventures, even when she has grown impatient with them, just to serve as a voice of reason. Eventually, they all end up learning an a lesson from each quest then venture on.
Tuesday 7:30 PM et/pt on Cartoon Network

9 Seasons,

190

Episodes - Currently Airing

May 3, 2011

10

/
Watch Full Episodes of The Amazing World of Gumball

Season 9 Episode 11
The Slide (00:00)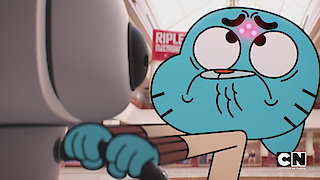 Season 9 Episode 10
The Loophole (11:34)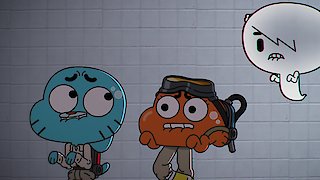 Season 9 Episode 8
The Test
Season 9 Episode 6
The Code
Season 9 Episode 5
The Choices
Season 9 Episode 4
The Vision (22:00)

Watch Episodes
Clips & Extras
The Amazing World of Gumball

Full Episode Guide
Season
9
9 full episodes, 10 clips available
Rocky decides to stop living life online, and find love on a dating app, and Gumball and Darwin try to help him.

Episode

10

-

The Loophole

Gumball and Darwin give Bobert instructions so he will behave in a safe and responsible manner, but he applies his logic to their rules.

Rocky decides to stop living life online, and find love on a dating app, and Gumball and Darwin try to help him.

Gumball takes a personality test that labels him "The Loser" and he tries to shake the label.

Carrie backs up Gumball's ghost story, and the students want to hire them as ghost exterminators for Halloween candy.

Gumball learns the Wattersons have been stealing Mr. Robinson's wi-fi for years.

Nicole reminisces about how she met Richard during a family dinner.

The guys find evil plans on Alan's memory stick and try to stop him from carrying them out.

The Choices: When a typically stressful Watterson family dinner pushes her to the edge of her sanity, Nicole starts reminiscing about the time she met Richard. Might her life have been better if she'd never stopped to talk to her future husband and taken a different path instead? / The Code: Gumball learns the Wattersons have been stealing Mr. Robinson's wi-fi for years. When it goes down, they try and live without it but life offline proves too hard. Gumball and Darwin decide to hack their way through cyberspace to learn Mr Robinson's passcode.

Anais has made a new friend so Gumball and Darwin immediately assume there must be something wrong with him.

Gumball realizes he's lived this day before.
Season
8
13 full episodes, 9 clips available
Episode

13

-

The Disaster

When Rob purchases a universal remote from the Awesome Store, he discovers that he can control the entire universe.

Fed up with having to listen to Molly's long, tedious anecdotes, Gumball and Darwin try to teach her how to make them sound more exciting.

Episode

11

-

The Compilation

Odd internet clips are recalled by the people of Elmore; a strange figure arrives and insults Mom, but the kids are surprised when Mom doesn't fight back.

When an unknown figure shows up and insults their Mom, the kids are expecting a massive showdown but are surprised when Mom chooses the path of peace. Mom explains Yuki, Masami's mother, is an old school friend and repeatedly refuses to fight her, despite further provocation. However when Yuki threatens to get Mom fired from her job, Mom has no choice but to partake in a rematch of a karate match her and Yuki had fought as children.

Episode

9

-

The Detective

The Slap: Tobias follows every single high-five with a butt-slap. So when Gumball doesn't get one, he feels insulted. He tries to get Tobias to slap his rear all day but when it doesn't work he decides they need some enforced one-on-one bro-time to build their relationship up to a butt-slap. / The Detective: Anais arrives in the bedroom to find a messy crime-scene and her Daisy doll missing. She realizes Gumball and Darwin are the chief suspects. Following a series of clues is her only chance to track them down and her only hope of learning what happened to Daisy. But as the mystery unravels, it seems the culprits may have turned on each other.

Gumball feels left out when Tobias doesn't greet him with his special high five slap.

Episode

7

-

The Roots / The Blame

The Roots: When Mom sees Darwin gazing longingly at a fish-tank, she thinks their mammalian lifestyle isn't fulfilling her adopted son and deep down he longs to connect with his fishy roots. / The Blame: Gumball gives Billy his first taste of videogames but the sheer excitement causes him to pass out.

Episode

6

-

The Night / The Misunderstanding

The Night: As night falls in Elmore, the Moon takes us on a tour through the various dreams - and nightmares - of the town's slumbering inhabitants. / The Misunderstanding: Gumball has misunderstood about his date with Penny. He thought they were meeting for dinner but they were actually meeting for lunch at a Diner called Dinner.

Episode

5

-

The Points / The Bus

The Points: Gumball and Darwin discover Tobias is doing way better than them in an online game called Galatrek. / The Bus: When Rocky suggests the Elmore Junior High kids skip school, the bus is boarded by criminals, who seem to want to teach them the importance of school attendance.

Episode

4

-

The Awkwardness / The Nest

The Awkwardness: Gumball is walking in the same direction as Hot Dog Guy, and with each step it becomes increasingly awkward. / The Nest: A breaking news report tells the Wattersons that their neighbor is among the several mysterious disappearances happening across Elmore. Their search for clues leads them to find a strange egg, which they soon discover belongs to their own Evil Turtle.

Episode

3

-

The Parasite / The Love

The Parasite: Anais has made a new friend, but Gumball and Darwin aren't sure their relationship is equal./ The Love: The residents of Elmore search for the meaning of love.

Episode

2

-

The Advice / The Signal

The Advice: Mr Small feels that he hasn't inspired the children of Elmore Junior High, so Gumball and Darwin try to lift his spirits. / The Signal: Gumball develops a strange stutter, and it makes him accidentally offend Darwin.

Episode

1

-

The Traitor / The Girlfriend

The Traitor: When Alan ditches Gumball to do something more fun, Gumball is desperate to track him down and make him pay for his betrayal. / The Girlfriend: Jamie has decided she needs a sweetheart and, unlucky for him, she has decided Darwin is the best candidate.
Season
7
29 full episodes, 22 clips available
Season
6
20 full episodes, 22 clips available
Season
5
20 full episodes, 19 clips available
Season
4
16 full episodes, 5 clips available
Season
3
11 full episodes, 2 clips available
Season
2
40 full episodes, 27 clips available
Season
1
19 full episodes, 21 clips available
If You Like The Amazing World of Gumball, Then Try...
Most Popular The Amazing World of Gumball Episodes
Season 9 Episode 8

The Test

11/03/2016

Season 9 Episode 11

The Slide

12/08/2016

Season 1 Episode 7

The Quest

5/30/2011

Season 5 Episode 7

The Name

7/10/2014

Season 1 Episode 2

Responsible

5/09/2011
The Amazing World of Gumball Video Clips & Extras