Watch The Doctors
Viewers of the television show, The Doctors, can learn about solutions for "Turkey" necks, thinning lips, fine lines and body functions they can't control. The safest foods for babies might be discussed, treatments for hemorrhoids, and how to read your pet's embarrassing behavior. They might also see a woman reveal herself to the word after a 15-hour face-transplant, following a brutal attack.
The American syndicated talk show airs in the United States, Australia, Mexico, Canada, Sweden, Ireland and Finland. The show was originally a spinoff of the Dr. Phil television show, which itself originally came from the Oprah Winfrey Show. It focuses on medical and health issues. Many of the questions audience members ask doctors are medical questions they say they would be too embarrassed to ask their personal physicians. Travis Stork, a doctor who was educated at Vanderbilt University, hosts the show. Other medical experts on the show are obstetrician/gynecologist Lisa Masterson, pediatrician Jim Sears and plastic surgeon Andrew Ordon. Jillian Michaels, whom viewers may know better as a trainer on the Biggest Loser, has appeared on The Doctors, as well as on Dr. Phil's show. Dr. Phil and his son, Jay McGraw, produce The Doctors.
Jay McGraw said Michaels was the "perfect addition" to the team already on the show because she is also concerned about viewers making intelligent decisions about their health. He also said she had been one of the show's most popular guests.
Michaels said her "greatest passion" was to give support and information to people, so they can live healthy and happy lives.
Other subjects on the show include the Doctors' hot tub-healing machine, arthritis and how hydrotherapy can help heal the disease, restless leg syndrome and menstrual cramps. Natural treatments for erectile dysfunction, morning sickness and other subjects not seen on typical shows are also discussed.
Starting in its second season, the show began to gain in viewership. There are also versions of the show in Vietnam, Lebanon and Portugal.
Daily (Check Local Listings) on Syndicated

1 Season,

1

Episode - Currently Airing

September 26, 2008

10

/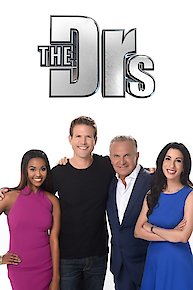 The Doctors

Full Episode Guide
Episode

140

-

April 3th, 2009

At what age should you stop certain behaviors, routines, or treatments (e.g. braces). What age should kids start doing certain routines like working out or even plastic surgery?
If You Like The Doctors, Then Try...