Watch The Eagle Has Landed
Series Length:
1 Season,

1

Episode
Description:
Where were you when the Eagle landed on July 20, 1969? On this 40th anniversary of the first landing on the moon, iCue looks back at the space race, the Apollo 11 mission, and the impact of that historic moonwalk, then and now.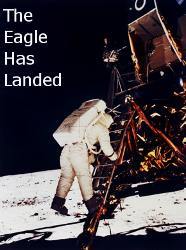 The Eagle Has Landed

Full Episode Guide
Season 0
(17 clips available)
Episode 0 - Web Exclusive Clips

Watch exclusive web clips.
If You Like The Eagle Has Landed, Then Try...