Watch The Voice (UK)
Based upon Dutch TV producer, John de Mol's popular series in Holland, The Voice UK was created and broadcast as a British talent television show. Shed Media's Wall to Wall entertainment company produces the series, along with Talpa Productions from Holland. The judge's panel consists of singers Jessie J, Danny O'Donoghue, will.i.am of the Black Eyed Peas music group and singer Sir Tom Jones, with Holly Willoughby and Reggie Yates as presenters.
As part of The Voice franchise, the show features singers and musicians that are chosen from public auditions, which comprise four stages: blind auditions, producers' auditions, artist to artist battles, and live shows.
The producers' auditions began in October of 2011 and featured five live events in London, and two in Birmingham, Manchester, Glasgow and Cardiff, with one in Belfast. The show's blind auditions all took place at the BBC Television Center, and were broadcast during the series' first four weeks.
Solo artists as well as duos may participate, but must be a minimum age of sixteen. The coaches were not present during producer auditions. The audition standards set were all considered far above average. Coach Danny O'Donoghue said the talent on the show, in his opinion, beat out any talent finals he had ever seen on television, just after the first few days alone. In particular, the 16 and 17 year old participants displayed an outstanding array of performance ability. Each coach was provided with a very plush dressing room at the BBC TV Center.
Prior to airing, the BBC attempted to boost audience interest and participation by using social media and online activities. The online engagement and buzz created a great deal of interest so that even before the first show aired, it had an impressive following. For example, The Voice UK's Twitter account alone had over approximately 15 thousand followers.
As The Voice UK continued, it was apparent that audiences had connected with the show and stayed loyal. After Blind Auditions round three, the BBC program reported a four million viewership margin, after which executive producer, Simon Cowell and others relocated the show to another, more favorable and later time slot.
The Voice UK ran for eleven weeks during March 2012 on the BBC network. The Battle shows were all broadcast over a two night period for the April 21 and 22 weekend. Winner Leanne Mitchell of the first season, received 100,000 pounds, as well as a Universal Republic record deal.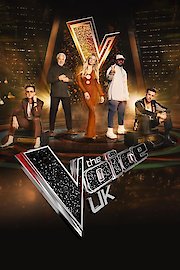 The Voice (UK)

Full Episode Guide
Holly Willoughby and Reggie Yates host the first of a two part battle.

Episode 4 - Blind Auditions 4

Holly Willoughby and Reggie Yates host the final round of blind auditions as superstar coaches will.i.am, Tom Jones, Jessie J and Danny O'Donoghue continue their mission to find and nurture the UK's next great voice.

Episode 3 - Blind Auditions 3

Holly Willoughby and Reggie Yates host the penultimate round of blind auditions.

Episode 2 - Blind Auditions 2

The coaches battle it out to win over the most outstanding voices for their team.

Episode 1 - Blind Auditions 1
Episode 3 - God Only Knows: Vocal Harmony

Episode 2 - Getting Intimate: The Male Voice

Episode 1 - Show Some Emotion: The Female Voice
If You Like The Voice (UK), Then Try...