Watch T.I. & Tiny: The Family Hustle
T.I. and Tiny: The Family Hustle is a show that airs on VH1. The show revolves around hip hop artist T.I. also known as Tip Harris, his wife Tiny and his children. In most episodes, T.I. must juggle his music career, being a husband and a father. The show first aired after T.I. was released from a 12 month prison sentence. His prison sentence was for attempting to purchase illegal firearms. T.I. mentors children from across the United States. He goes to schools and talks with the kids about the violence of guns.
T.I. has six children, not all of which are with his wife Tiny. The show usually includes all six of his children. His son Domani is following in his father's footsteps. Most episodes show where he is working on his rap. T.I.'s daughter Niq Niq is following in her dad's footsteps as well. She is in the lady group OMG Girls. Niq Niq already has a single on the music charts with the OMG Girls.
Not only is T.I. in the music industry, his wife Tameka "Tiny" Harris was a member of the R&B female group, Xscape. Earning the group multiple Grammy's and top of the chart singles. Tiny is more into song writing and her fashion line on the show.
The Family Hustle just released their second season. In the new season, T.I. continues to juggle his career and family. He always tends to put his family first in the episodes. A lot of families can relate to T.I. and Tiny: The Family Hustle.
Watch Full Episodes of T.I. & Tiny: The Family Hustle

Season 6 Episode 10
The Announcement
Season 6 Episode 9
Blackmail
Season 6 Episode 8
It's A Yard Sale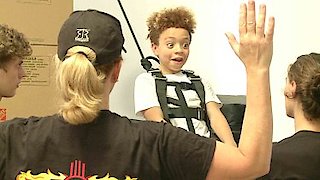 Season 6 Episode 7
Stuntin'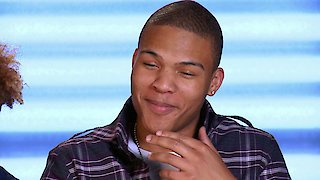 Season 6 Episode 6
Where's Major?
Season 6 Episode 5
A Major Sport

Watch Episodes
Clips & Extras
T.I. & Tiny: The Family Hustle

Full Episode Guide
Season
6
10 full episodes, 16 clips available
Episode

10

-

The Announcement

In the explosive season finale, Tameka delivers shocking news to the family that will change everyone's lives forever.

T.I.'s comedian pal visits the family and blackmails the kids after they break a vase. Later, Tiny and her friend compete in a lip-sync battle against their daughters.

Episode

8

-

It's A Yard Sale

The children put together a yard sale but end up peddling a few of T.I.'s most cherished possessions. Later, Zonnique records her first solo music video.

Tameka looks for a fun, aerobic activity for herself, Zonnique, Ms. Diane and Precious. Later, T.I. conducts stunt classes trying to stop his sons from harming his house and possessions

Episode

6

-

Where's Major?

Tiny visits a medium to develop closure with the recent passing of her nephew. Later, T.I. invents a plan to scare his oldest boys into paying more attention to their little siblings.

Episode

5

-

A Major Sport

T.I. and Tiny hope to introduce Major to sports as an alternate option to video games, so T.I. request his son to try three different sports. Later, Tiny gathers with a social-media comedian wishing to expand her entertainment company's brand.

Episode

4

-

A Major Project

Major requests T.I.'s assistance with a school project, but he gets down when the rest of the family becomes too involved. Later, King writes a kid's book.

Episode

3

-

A Major Baptism

King and Zonnique decide they want to be baptized, but Major isn't able to join them because to his fear of water. Later, Tip helps Crow get ready for a first date.

Episode

2

-

Crow's Bucket List

T.I. helps his uncle fulfill items on his bucket list. Later, someone starts to prank everybody in the home.

Episode

1

-

All About Domani

Domani requests the assistance of Tiny and his siblings to showcase his abilities as an entertainer.
Season
5
11 full episodes, 4 clips available
Episode

11

-

Harris Haunted House

In this spooky mid-season finale, T.I., Tiny, and the family go ghost hunting.

With the opening of Tip's new restaurant, the kids are eager to get involved. Anxious they'll interfere with his business, Tip decides to give the kids a crash course.

Episode

9

-

A Precious Date

Tiny convinces Precious to try online dating.

Episode

7

-

A Major Moment

Tip is thrilled about his role in the new Superhero movie Ant Man. Unfortunately, King and Major aren't. After a few failed attempts, Tip is desperate to inspire these boys to find their hero within.

Episode

5

-

Pesky House Guest

T.I.'s friend K-Dub needs a place to stay, so T.I. offers his house.

Episode

4

-

Are You Smarter?

While hanging out with his friend K-Dub, T.I. realizes Major's intelligence is astounding. With a thousand dollars on the line, T.I. and K-Dub test Major's knowledge against the people of Atlanta.

Episode

3

-

Mr. Fixer-upper

A longtime friend of the family, Crow, seeks T.I.'s expertise in love, but T.I. soon finds out he has his work cut out for him.

Tiny's oldest child is ready to move out. Meanwhile, Messiah hopes to get his driver's permit.

After five years of marriage, T.I. and Tiny decide to celebrate with a trip to Costa Rica. However, when the family catches wind of this planned getaway, T.I. and Tiny feel the pressure to make it a family vacation.
Season
4
22 full episodes, 9 clips available
Season
3
18 full episodes
Season
2
17 full episodes
Season
1
14 full episodes
If You Like T.I. & Tiny: The Family Hustle, Then Try...
Most Popular T.I. & Tiny: The Family Hustle Episodes
Season 1 Episode 1

God, Family, Hustle

12/05/2011

Season 1 Episode 14

All For One

3/12/2012

Season 6 Episode 8

It's A Yard Sale

9/12/2016
T.I. & Tiny: The Family Hustle Video Clips & Extras
T.I. & Tiny Express How Much They Love Their Kids | T.I. & Tiny: The Family Hustle
Clip (03:36)
Niq Niq Challenges Tiny To A Lip Sync Challenge | T.I. & Tiny: The Family Hustle
Clip (02:56)
K-Dubb Blackmails the Harris Boys 'Sneak Peek' | T.I. & Tiny: The Family Hustle
Clip (02:46)
Niq Niq Slays On the Set Of Her New Music Video | T.I. & Tiny: The Family Hustle
Clip (02:24)
Tiny Talks to Niq Niq About Her Music Video 'Sneak Peek' | T.I. & Tiny: The Family Hustle
Clip (01:49)
T.I. Shows His Boys How To Be Stunt Men | T.I. & Tiny: The Family Hustle
Clip (02:40)
Tiny Harris Takes The Girls Rollerblading 'Sneak Peek' | T.I. & Tiny: The Family Hustle
Clip (02:03)
T.I. Busts Domani, King, & Messiah For Losing Major Harris | T.I. & Tiny: The Family Hustle
Clip (03:13)