Watch Under the Hammer
Series Length:
1 Season,

7

Episodes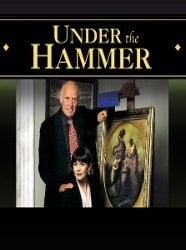 Under the Hammer

Full Episode Guide
Select the sources you want displayed in the episode guide. All others will be hidden.
7 Amazon Episodes

BUY / RENT
Season 1
(7 full episodes)
Episode 7 - Treasure Trove

The prickly, imperious head of Klinsky's antiquities department is causing trouble for Maggie, but it's nothing compared to her personal life. She must decide once and for all where her heart lies: with the dashing wine expert, her career, or a certain third party.

Episode 6 - The Specter at the Feast

A lost manuscript containing an unpublished story from Charles Dickens presents a tantalizing prospect, but it might be too good to be true. When the manuscript is stolen, Ben finds himself the prime suspect, with much more than his reputation at stake.

A bidder at Klinsky's New York branch mysteriously dies, and Ben suspects that a rare Titian masterwork has something to do with it. After making some unexpected discoveries, Ben must make a choice between what's best for his career and his conscience.

Episode 4 - The Jolly Joker

The Klinsky chairman purchases a piece from a modern painter, but Ben doubts the artwork is all it's purported to be. Through their keen instincts and a bit of luck, Maggie and Ben uncover a bold plot and finally begin to recognize their feelings for one another.

Episode 3 - The Virgin of Vitebsk

Episode 2 - Wonders in the Deep

Episode 1 - The Fatal Attribution
If You Like Under the Hammer, Then Try...