Watch Wheeler Dealers
Series Length:
11 Seasons,

117

Episodes
Description:
Wheeler Dealers is a show that started off in the United Kingdom but eventually became popular in the United States. The show is all about 2 men, Mike and Edd, and the various cars they purchase and resell for profit. Both men have extensive experience in the used car world and have significant mechanical abilities which helps them repair any and all problems the encounter when preparing to buy or sell a car.
Each episode usually features a single car that the men will purchase, usually it is something unique or somewhat uncommon, and the cars almost always have some sort of significant problem. Sometimes the cars have significant body damage that needs repaired but more often the cars have minor mechanical or electrical problems that can be quickly and cheaply fixed by Edd. Wheeler Dealers also walks the audience through many of the processes involved in repairing or replacing bits and pieces of a car so that they can understand what is actually being done to the car in the show.
Towards the end of each episode Mike and sometimes Edd generally take the car out for a test drive and begin approaching potential buyers. Mike also usually gets the opportunity to see a well maintained example of whatever car they are working on so he can get a good idea of how the car should look and perform when complete. At the end Mike often makes a deal to sell the car to whoever is interested and the total profit for the two is calculated based on the purchase price as well as work and labor done on the car to get it ready. Sometimes the guys make a little bit of money buying and repairing the cars but a large amount of the time they barely break even or even lose a little bit of money due to more costly repairs than what they expected.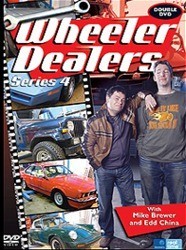 Wheeler Dealers

Full Episode Guide
Episode 12 - Porsche 944 Turbo (1)

Episode 11 - Ferrari Dino 308 GT4 (1)

Episode 10 - Cadillac Coupe de Ville

Mike Brewer wants to prove he can profit on a car without spending a fortune, while Edd China turns his attention to restoring a Mercedes-Benz SLK on a very tight budget.

Episode 6 - Alfa Romeo Spider Veloce (1)

Episode 4 - Nissan Skyline

Episode 2 - Jaguar Mark 2
Episode 4 - Mercedes G-Wagen

Episode 1 - Fiat Dino Coupe 2400
If You Like Wheeler Dealers, Then Try...