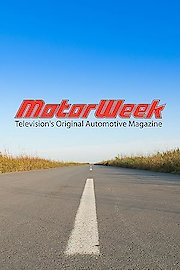 Watch Motorweek
TV-G
2009
43 Seasons
Motorweek is a classic and long-running automotive television show that has been enjoyed by car enthusiasts since its debut in 1981. Hosted by the knowledgeable and engaging John H. Davis, the show provides a comprehensive look at the world of cars, from new model releases to classic cars and everything in between.
The show has always been a staple of PBS programming, and it has a loyal following of viewers who appreciate the show's detailed and informative approach to the automotive world. With more than 800 episodes produced to date, the show has covered a vast array of topics related to cars, trucks, and other vehicles, making it an ideal resource for anyone who is passionate about all things automotive.
One of the strengths of Motorweek is that it covers a variety of vehicle types, from American muscle cars to foreign sports cars, from pickup trucks to hybrids. The program provides in-depth reviews and comparisons of vehicles, which can help viewers make informed decisions when it comes time to purchase a new or used car.
Another key element of the show is its focus on safety and technology. Motorweek often features segments on the latest safety features in cars, such as lane departure warning systems, rearview cameras, and autonomous driving technology. The show also highlights the latest in-car technology, from infotainment systems to advanced driver assistance features.
In addition to new car reviews, Motorweek also covers classic cars and the collector car market. The show has featured profiles of rare and vintage cars, as well as interviews with car collectors and experts in the field. These segments offer viewers a glimpse into the rich history of the automotive industry, as well as an appreciation for the craftsmanship and engineering that goes into making a great car.
Throughout its long run, Motorweek has remained true to its informative and accessible format. John H. Davis is a skilled and engaging host, with a deep knowledge of cars and a friendly, approachable demeanor that makes the show enjoyable to watch. With its focus on safety, technology, and classic cars, Motorweek is a must-watch for anyone who loves cars, whether they are a serious enthusiast or just curious about the latest trends in the automotive industry.
Overall, Motorweek is a great show that provides a wealth of information about all things automotive. Whether you are in the market for a new car or just interested in learning more about cars and trucks, this show has something for everyone. With its experienced and knowledgeable host, comprehensive coverage of the industry, and engaging format, Motorweek is a classic that will continue to inform and entertain viewers for years to come.
Motorweek is a series that is currently running and has 43 seasons (827 episodes). The series first aired on February 13, 2009.