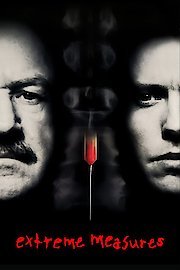 Watch Extreme Measures
"Not all surgery is intended to cure."
R
1996
1 hr 58 min
56
Extreme Measures is a 1996 thriller film starring Hugh Grant, Gene Hackman, and Sarah Jessica Parker. The movie follows Dr. Guy Luthan, played by Hugh Grant, an ER doctor working in a New York City hospital. One night, a patient named Bernard (played by Paul Guilfoyle) is brought in with unexplainable symptoms. Despite Dr. Luthan's efforts to diagnose him, Bernard dies.
This experience sticks with Dr. Luthan, who begins to investigate the circumstances surrounding Bernard's death. With the help of a nurse named Jodie Trammel (played by Sarah Jessica Parker), Dr. Luthan delves into Bernard's medical records and discovers that the patient had participated in a secret medical experiment. This leads Dr. Luthan to the door of Dr. Lawrence Myrick, played by Gene Hackman, a brilliant scientist conducting groundbreaking research but maintaining secrecy around his methods.
Dr. Luthan becomes more and more fixated on uncovering the truth and exposing Dr. Myrick's unethical practices. As he gets closer to the truth, he becomes a target himself, and his life is put in danger by a group of individuals invested in keeping the experiment a secret.
With twists and turns at every corner, Extreme Measures keeps the viewer on the edge of their seat. The themes explored in the movie touch on the ethics of medical research, the balance of individual rights versus the greater good, and the lengths people will go to cover up their wrongdoing.
At its core, Extreme Measures is a story about a man who is unwilling to let go of his pursuit for the truth, despite the serious consequences that come with it. Dr. Luthan's character is developed over the course of the movie, revealing his deep-seated care for his patients and his unwavering moral compass. Hugh Grant offers a solid performance as the lead character, bringing a sense of urgency and authenticity to the role.
Gene Hackman serves as a formidable opponent to Dr. Luthan, playing the role of the morally ambiguous Dr. Myrick with a finesse and complexity that only a seasoned actor can deliver. Sarah Jessica Parker offers a supporting performance as a nurse who becomes Dr. Luthan's ally in his quest for the truth.
Director Michael Apted keeps the tension high throughout the movie, making excellent use of New York City locations to provide a backdrop for the plot. The writing by Tony Gilroy is sharp and effective, crafting a story that is both thrilling and thought-provoking.
In conclusion, Extreme Measures is a well-crafted thriller that explores complex ethical issues through the eyes of a driven protagonist. The performances by Hugh Grant, Gene Hackman, and Sarah Jessica Parker elevate the material, making it a must-see for fans of the genre. Even after 25 years, the movie remains engaging and relevant, offering a compelling glimpse into the world of medical research and the individuals who often hold its fate in their hands.
Extreme Measures is a 1996 drama with a runtime of 1 hour and 58 minutes. It has received moderate reviews from critics and viewers, who have given it an IMDb score of 6.2 and a MetaScore of 56.