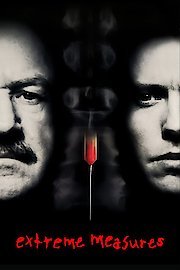 Watch Extreme Measures
"Not all surgery is intended to cure."
R
1996
1 hr 58 min
56
Dr. Guy works in an emergency room in New York, and he has a patient come in that's homeless, and suffering from symptoms that don't make much sense. After the man passes, Dr. Guy decides to look into the patient's death, because the patient had a wristband from another hospital. After researching the patient's death, he's told to stop, but he goes against what his superiors tell him. Dr. Guy is later framed with cocaine, loses his job, and begins to wonder who is doing this to him. Only later does Dr. Guy find out that things are more sinister than they seem.