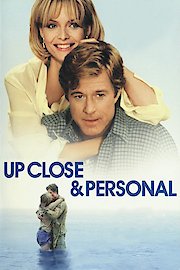 Watch Up Close & Personal
"Every Day we Have, is One More Than We Deserve."
PG-13
1996
2 hr 4 min
Up Close & Personal is a romantic drama movie from 1996, directed by Jon Avnet and starred by Robert Redford, Michelle Pfeiffer, and Stockard Channing. The film follows the story of Tally Atwater (Michelle Pfeiffer), a young and ambitious news reporter who dreams of becoming a big-time anchor. Fortunately, she gets her big break when she is hired by Warren Justice (Robert Redford), a legendary TV newsman who sees her potential and takes her under his wing. At first, Atwater finds it difficult to adjust to the cutthroat world of TV journalism, but she quickly rises to the top with Justice's help. Justice teaches her everything she needs to know about the business, from how to write a great script to how to present herself on-camera. He also becomes her mentor, giving her a sense of direction and purpose that she has never had before. As Atwater's star rises, she becomes a celebrity in her own right, with adoring fans and a growing reputation as one of the best in the business. She is offered jobs all over the country but chooses to stay with Justice, who she has fallen in love with. However, Justice is cautious about getting involved with Atwater, and their relationship is fraught with tension and uncertainty. Throughout the movie, we see Atwater's struggle to balance her personal and professional life, as well as her desire to prove herself to Justice and the rest of the industry. She faces many challenges, including opposition from colleagues who resent her success and a tragic accident that threatens to derail her career. Up Close & Personal is a movie that explores themes of ambition, love, and loyalty. It shows the sacrifices that people make to achieve their dreams and the impact that those sacrifices have on their lives and relationships. The film also delves into the ethics of journalism, as Atwater must navigate the fine line between telling the truth and sensationalizing the news to boost ratings. The performances in Up Close & Personal are exceptional, particularly those of Robert Redford and Michelle Pfeiffer. Redford is convincing as the seasoned newsman who sees something special in Atwater and takes her under his wing. Pfeiffer is outstanding as Atwater, portraying her as a determined and ambitious woman who is willing to do whatever it takes to succeed. The chemistry between Redford and Pfeiffer is palpable, and their scenes together are some of the movie's best. However, Stockard Channing also delivers a strong performance as Marcia McGrath, the conniving news anchor who sees Atwater as a threat and does everything in her power to undermine her. The cinematography in Up Close & Personal is also noteworthy, as it captures the glamour and excitement of the TV news industry. The movie is set against the backdrop of Miami in the 1980s, with its vibrant colors and bold fashion choices, adding to the film's overall ambiance. In conclusion, Up Close & Personal is a well-acted and beautifully shot movie that explores the highs and lows of the TV news industry. With its engaging storyline and compelling characters, it is a movie that will keep you on the edge of your seat from start to finish. It is a movie that is definitely worth watching, particularly for fans of romantic dramas and journalism.