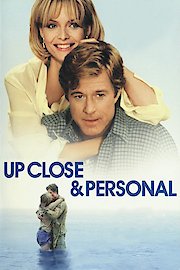 Watch Up Close & Personal
"Every Day we Have, is One More Than We Deserve."
PG-13
1996
2 hr 4 min
The story of Up Close and Personal focuses on a young woman named Sally "Tally" Atwater, who is an up and coming news reporter in Miami. One day, a man named Warren Justice, a Miami local news director discovers Tally while watching her homemade audtion tape in the studio. As soon as he finishes watching the tape, he starts to develop feeling for Tally. Warren sees potential in Tally and helps build her career as a successful news anchor. As time passes by, Tally begins to gain a successful career until one day, Tally is told that she must relocate to Philadelphia, leaving Warren behind. As soon as Tally moves to Philadelphia, she has trouble fitting in to her new post. Warren tries to do everything he can to inspire Tally to continue to excel even further in her career by beginning a new career path together. One day, Tally is assigned to do a routine assignment located in a Philadelphia prison. As soon as Tally and her cameraman enter the prison to report on an ongoing prison riot, they are taken as hostages and are forced to witness never ending violence for many hours.