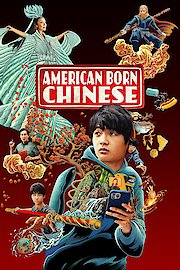 Watch American Born Chinese
TV-PG
2023
1 Season
American Born Chinese is a captivating and thought-provoking animated series that is available exclusively on the Disney+ streaming platform. Based on a graphic novel of the same name by author and illustrator Gene Luen Yang, the show's narrative intricately weaves together three distinct storylines, each one exploring themes of identity, assimilation, and belonging.
The first storyline centers on Jin Wang, a Chinese-American boy who moves from San Francisco to a predominantly white neighborhood in a small town. Struggling to fit in at school and reconcile his Chinese heritage with his American identity, Jin is determined to become an "all-American boy" by any means necessary. Along the way, he must confront both internal and external prejudices while navigating the tumultuous waters of adolescence.
The second storyline revolves around the legendary Monkey King, a supernatural figure from Chinese folklore who seeks to ascend to godhood through a series of trials and tribulations. Despite his immense strength and cunning, the Monkey King is outsmarted by his fellow deities and humiliated at every turn. Along the way, he learns valuable lessons about the nature of power and the dangers of pride.
The third and final storyline follows the character of Chin-Kee, a grotesque caricature of a Chinese peasant who wreaks havoc on his cousin Danny's life every year during his annual visit. As Danny tries to distance himself from Chin-Kee and his embarrassing antics, he finds himself grappling with his own feelings of shame and inadequacy. Eventually, Danny realizes that his attempts to reject his Chinese heritage only perpetuate the cycle of oppression and discrimination.
Despite their seemingly disparate plotlines, these three narratives converge in a powerful and poignant conclusion that sheds light on the complexities of the Asian-American experience. Through its vibrant animation style, witty dialogue, and nuanced character development, American Born Chinese challenges its viewers to question their own assumptions and biases while celebrating the richness and diversity of Asian culture.
One of the show's major strengths lies in its ability to explore serious and often heavy issues with a lightness of touch. Whether grappling with themes of racism, cultural erasure, or identity formation, the series manages to strike a balance between humor and heartbreak that is both refreshing and effective. While the show's target audience is clearly young adults, viewers of all ages will find something to appreciate in its engaging storytelling and empathetic characters.
Another standout aspect of American Born Chinese is its commitment to representing a wide range of Asian experiences and perspectives. From the generational divide between immigrant parents and their American-born children to the complex intersections of race, class, and gender, the show offers a nuanced and multifaceted portrayal of the Asian-American community that feels both authentic and inclusive. Whether you identify as Asian-American or not, there is something powerful and resonant about seeing your own experiences reflected in media.
Overall, American Born Chinese is a must-watch for anyone interested in exploring issues of identity, culture, and representation. By turns witty, insightful, and deeply moving, the series offers a fresh and innovative take on the classic coming-of-age story while subverting harmful stereotypes and challenging its viewers to think critically about the world around them. Whether you're a die-hard fan of the original graphic novel or a newcomer to the world of Asian-American storytelling, this series is sure to leave a lasting impact.
American Born Chinese is a series that is currently running and has 1 seasons (8 episodes). The series first aired on May 24, 2023.