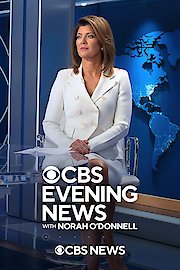 Watch CBS Evening News
CBS Evening News was a television news program that aired on CBS from 1948 to 1962. The show was anchored by Douglas Edwards and was the network's first nightly news broadcast. Edwards was a seasoned journalist who had worked for various publications before joining CBS in 1942.
The show was a pioneering effort in the field of television news and was designed to deliver the day's top stories to viewers in a concise and efficient manner. Its format was simple but effective, featuring Edwards delivering the news from behind a desk with the aid of a few basic visual aids. The broadcast was initially just 15 minutes long but grew to 30 minutes during its run.
Viewers quickly took to the program, and CBS Evening News soon became a staple of American television. Its popularity was due in part to Edwards' straightforward and objective delivery, which earned him a reputation as one of the most trusted reporters of his era. He was known for being calm and collected, providing even the most unsettling news with a sense of composure.
Over the course of its 14-year run, CBS Evening News covered some of the most important events in American history. It was the first national news broadcast to report on the Korean War, and it provided extensive coverage of the McCarthy hearings, the Cuban Missile Crisis, and the space race. Viewers tuned in to the program to stay up-to-date on the latest developments in the news, and many considered Edwards to be a trusted friend and confidant.
One of the most notable features of CBS Evening News was its commitment to delivering news from a variety of sources. Edwards and his team sought out experts and eyewitnesses to provide commentary and insight on the day's events, and they made a conscious effort to avoid sensationalism and bias. Instead, the focus was on delivering objective reporting that could be trusted by viewers across the country.
Overall, CBS Evening News was a groundbreaking program that revolutionized television news. Its influence can still be seen in today's news broadcasts, which continue to strive for objectivity and fairness in their reporting. While Douglas Edwards may no longer be with us, his legacy lives on in the countless journalists who have followed in his footsteps and continue to bring the news to audiences around the world.