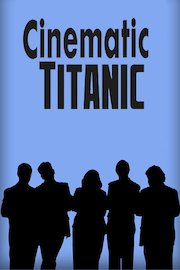 Watch Cinematic Titanic
Not Rated
2008
1 Season
Cinematic Titanic is an American television show that premiered in 2007 on American Pop Classics. The show was created by Joel Hodgson, who is best known for creating the classic cult favorite TV show Mystery Science Theater 3000. Hodgson was joined by Trace Beaulieu, Frank Conniff, Mary Jo Pehl, and J. Elvis Weinstein, who all served as writers and performers on the original MST3K. The show was produced by Shout! Factory, a company devoted to preserving and releasing classic and cult films on DVD and Blu-ray.
Cinematic Titanic was structured similarly to Mystery Science Theater 3000, with the cast providing commentary and jokes over a B-Movie that they were watching. However, there were some key differences in the format that set it apart from its predecessor. For one, the show was filmed in front of a live audience, giving it a more interactive and energetic feel. Additionally, the cast members sat at a table instead of in front of a movie theater screen, and the movie they were watching was projected on a large screen behind them.
The show featured a wide variety of B-Movies, ranging from obscure and forgotten titles to well-known classics like Santa Claus Conquers the Martians and The Wasp Woman. The movies were typically low-budget and cheesy, with poor acting, special effects, and production values. This provided ample fodder for the cast to riff on throughout the show.
The cast of Cinematic Titanic was made up of some of the most beloved and talented performers from the original Mystery Science Theater 3000. Joel Hodgson, who played the lovable "Joel Robinson" on MST3K, served as the ringmaster for the show, leading the cast in their commentary and banter. Trace Beaulieu, who played the original "Crow T. Robot" and "Dr. Clayton Forrester" on MST3K, lent his dry wit and sarcastic tone to his performance on Cinematic Titanic.
Frank Conniff, who played the "Mad Scientist" on MST3K, brought his irreverent humor and sharp writing skills to his role on Cinematic Titanic. Mary Jo Pehl, who played the role of "Pearl Forrester" on MST3K, lent her quick wit and impeccable timing to her performance on Cinematic Titanic. Finally, J. Elvis Weinstein, who played the original "Tom Servo" on MST3K, brought his unique perspective and deadpan humor to his role on the show.
One of the standout features of Cinematic Titanic was the chemistry between its cast members. The performers had worked together for years on Mystery Science Theater 3000, and their camaraderie and familiarity with each other was evident in the way they bounced off each other's jokes and played off each other's performances. Their comedic timing and delivery were impeccable, making even the most groan-worthy jokes land with aplomb.
Overall, Cinematic Titanic was a hilarious and enjoyable continuation of Joel Hodgson's legacy of riffing on bad movies. While it may not have had the same level of mainstream success as Mystery Science Theater 3000, it was beloved by fans of the original show and helped to solidify the legacy of some of its most iconic performers. If you're a fan of cheesy B-Movies and irreverent commentary, Cinematic Titanic is well worth a watch.