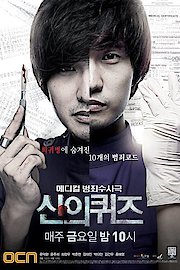 Watch God's Quiz
God's Quiz is a South Korean television medical crime drama series. The show first premiered in 2010 and has since aired four seasons. The series centers around Han Jin-woo (played by Ryu Deok-hwan), a genius medical examiner who lives by his own set of rules. He is a medical examiner at the National Forensic Service but often tries to solve cases himself, Sometimes getting himself into trouble with the law. Throughout the series, he solves various medical-related cases with the help of his team.
Each season of the show consists of ten 60-minute episodes, and every episode focuses on a different case. The show's plot is centered around medical mysteries that need to be solved, and viewers can expect lots of twists and turns in each episode. The series not only focuses on medical science but also uses other fields such as engineering, biology, and chemistry to solve cases.
One of Han Jin-woo's closest team members is Kang Kyung-hee (played by Yoon Jeong-hee), a skilled and respected forensic pathologist. She has a strong character but has a compassionate heart. Her skills in forensic science often compliment Han Jin-woo's outlandish and unconventional methods of solving cases. Together, they create a compelling team with the objective of unraveling the truth behind every case.
Another member of the team is the talented and knowledgeable detective, Chun Seung-yeon (played by Lee Seol-hee). She is a young and ambitious detective striving to uncover the truth behind each case no matter how challenging the situation may be. In addition, she and Han Jin-woo share a complicated past that only adds to the plot's tension.
Perhaps one of the most intriguing characters on the team is their ally, Woo-jin (Choo Seung-wook), a former gangster with a sharp and streetwise mind. He is smart, innovative, and will go to great lengths to make sure that Han Jin-woo and his team succeed in their cases. Despite his rogue behavior in previous years, he is a valuable member of the team.
The production design of the series is impressive, with various forensic investigation equipment such as an autopsy room and a forensic laboratory. The show covers these areas in detail to make the medical-themed show more exciting and realistic.
As the series progresses, the characters develop, and their relationships deepen. The mysteries encountered become more complex, and the stakes higher, making it more challenging for the team to get through to the bottom of each case. The characters' individual struggles also add to the show's overall intrigue, keeping the viewer glued to the screen with every episode.
God's Quiz has received many accolades through its tenure. It won the Best TV Drama Award at the 47th Baeksang Arts Awards in 2011 and has been praised for its attention to detail in the medical and forensic sciences. Overall, the show is a unique blend of medical sciences, crime thriller, and interesting character relationships. The significant influence of multiple scientific fields used to solve the cases makes the show intriguing and engaging. If you are a fan of detective stories or medical series, God's Quiz is an excellent show to add to your watchlist.