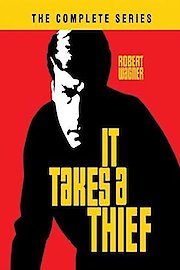 Watch It Takes A Thief
TV-PG
1968
3 Seasons
It Takes A Thief was a popular television series that originally aired on ABC from 1968 to 1970. The show starred Robert Wagner as Alexander Mundy, a debonair master thief who is given a chance to redeem himself by working for the United States government. The premise of the show was that Mundy would be released from prison, but only if he agreed to work as a special agent for the SIA (Secret Intelligence Agency). In exchange for his freedom, Mundy is tasked with stealing high-value items and documents from criminals and foreign governments.
The show's theme song, "The A-Team", was composed by Dave Grusin and became one of the most recognizable theme songs of the era. The show was created by Roland Kibbee and was produced by Universal Television. It quickly became a hit with audiences, and its popularity led to a second season of the show being produced.
The show was notable for its wit and humor, as well as its stylish and glamorous portrayal of international crime and espionage. Wagner's portrayal of Mundy was charming and suave, and his expertise at thievery was rivaled only by his ability to flirt with beautiful women. The show's writers also added a fun twist to the espionage genre by showing Mundy as a reluctant spy who would often grumble about his assignments and try to find creative ways to avoid danger.
It Takes A Thief was also known for its use of exotic and glamorous filming locations. The show was filmed on location in Europe and other international destinations, and it was the first television show to use the Panavision widescreen format. The show's cinematography and production values were top-notch, and audiences were drawn to the show's colorful and vibrant portrayals of the world's most beautiful and exotic destinations.
The show's cast included some of the best-known television stars of the time, including Malachi Throne, Fred Astaire, Susan Saint James, and Leslie Nielsen. Each episode featured a new and exciting guest star, and the show's writers were able to craft exciting and unique stories that matched the personalities and talents of each guest star.
Overall, It Takes A Thief was a classic television show that captured the spirit of its era. Its fun-loving and lighthearted portrayal of glamorous crime and espionage has made it a beloved classic that is still remembered fondly today. Its combination of wit, charm, and action made it a hit with audiences of all ages, and its legacy continues to inspire new generations of viewers who love a good spy caper.
It Takes A Thief is a series that is currently running and has 3 seasons (104 episodes). The series first aired on January 9, 1968.