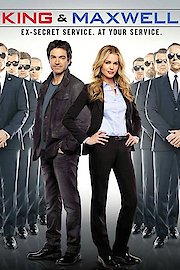 Watch King & Maxwell
2013
1 Season
King & Maxwell was a crime drama television series that aired on TNT from June 2013 to August 2013. The show starred Jon Tenney as Sean King and Rebecca Romijn as Michelle Maxwell, two former Secret Service agents who formed a private investigation firm after leaving the agency. The show was based on the popular book series by author David Baldacci.
The series followed the adventures of Sean King and Michelle Maxwell as they tackled various cases in the Washington, D.C. area. Each episode featured a self-contained storyline with its own set of twists and turns, while also further developing the overarching story of the main characters.
Sean King was a former Secret Service agent who left the agency after failing to save the life of a presidential candidate he was assigned to protect. He is haunted by this failure and is often seen drinking and struggling with his past. He is a brilliant investigator with a special talent for finding hidden connections in seemingly unrelated clues.
Michelle Maxwell was also a former Secret Service agent who left the agency after being involved in a scandal. She is tough, confident and believes in getting the job done by any means necessary. Unlike Sean, she is more straightforward in her approach and is not afraid to use her fists if needed.
In the pilot episode, Sean and Michelle were hired to investigate the murder of a teenage boy who was killed after being caught stealing from a wealthy family. As they work on the case, they uncover a conspiracy involving dirty cops, corrupt politicians, and a dangerous group of neo-Nazis.
Throughout the series, Sean and Michelle dealt with a variety of cases, including murder, kidnapping, and political corruption. The cases were often high-profile, with connections to powerful people in government and the business world. They were frequently assisted by FBI Special Agent Rigby (played by Michael O'Keefe) who acted as a liaison between the private investigation firm and law enforcement agencies.
The chemistry between Sean and Michelle was a major highlight of the show. Their banter and playful interactions added humor to the show, while also adding depth to the characters. The two had a history together, with Sean being Michelle's mentor at the Secret Service. There was also an underlying romantic tension between the two, although it was never fully explored.
The supporting cast also added to the show's appeal. Edgar (played by Ryan Hurst) was the firm's computer expert and hacker, who often provided vital information that helped solve cases. Benny (played by Chris Butler) was Sean's brother and a former cop who provided muscle when needed.
One of the standout episodes of the series was "Job Security." In this episode, Sean and Michelle were hired to investigate a hit-and-run accident that killed a congressman's mistress. As they dug deeper into the case, they uncovered a web of political corruption involving the congressman's wife and a powerful lobbyist. The episode had plenty of twists and turns that kept viewers on the edge of their seats.
Unfortunately, despite its strong cast and intriguing storylines, King & Maxwell only lasted one season. The show struggled with low ratings and was ultimately canceled in September 2013. Fans of the show were disappointed by the cancellation and have since been hoping for a revival.
In conclusion, King & Maxwell was a well-made crime drama that was well-acted and had intriguing storylines. It was a shame that the show was canceled after only one season, as there was potential for many more thrilling adventures with Sean and Michelle. Fans of crime dramas should definitely check out this show, as it is a great example of the genre.
King & Maxwell is a series that is currently running and has 1 seasons (10 episodes). The series first aired on June 10, 2013.