My Momma Throws Down
My Momma Throws Down is a show about African-American women cooking home cook meals, and they are showcasing their talents in fierce competitions. My Momma Throws Down airs on TV One. These are original recipes, ideas, and talent. The competitions are judged by celebrity judges. Ruben Studdard is from Birmingham, Alabama. He is an RB singer, and he talks about growing up in a traditional Southern home where food and memories goes hand and hand. Marcus Samuelsson is a top chef that appeared on Top Chef. He has many years and experience in fine cooking, and he is the owner of Red Rooster in Harlem, New York. Marvin Woods is an award winning celebrity chef, and he has received reviews from Oprah as delightful. Kandi Burruss best known for her RB singing in the group Xscape, and for her award winning songwriting talent. She is from Atlanta, Georgia and knows great down home cooking.
There are several other top celebrities that appears as guest on the show such as Jessica Harris, Chef Jamika, Chamique Holdsclaw, Bone Crusher, Nicole Ari Parker Kodjoe, Vanessa A. Williams, Malinda Williams, Trina Braxton, Tanya Holland, Loni Love, Trevor Noah, and Rockmond Dunbar among many others. There are usually three celebrity judges on each show. The contestants are just as excited about debuting their talents in food as the judges are.
Some of the contestants that have appeared on the show are Avarita Hanson who is an attorney but loves cooking a home cook meal. Then there is Ardra Tippett who has a passion for cooking and with her determination will not quit. Dorothy Clark is diverse and cooks Southern and Creole meals. Le'Dor Phoenix brings diversity in her meals as well with West Indies meals. My Momma Throws Down is filled with excitement, original home cook meals, and entertainment for the entire family to enjoy.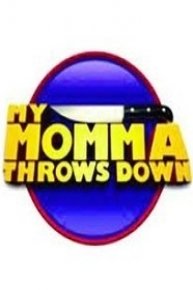 My Momma Throws Down Full Episode Guide
Episode

9

-

Shrimp Scampi & Pasta

It's a battle of Shrimp Scampi and Pasta when Le'Dor Phoenix-Milteer and Lisa Callens face off in the MMTD kitchen.

Episode

8

-

Pork Chops and Collard Greens

It's a battle of pork chops and greens, when Tammy Martin and Ardra Tippett face off in the MMTD kitchen.

Episode

7

-

Stovetop Fish and Macaroni Salad

It's a battle of Stovetop fish and macaroni salad when Kellie Alexander and Satari Frances face-off in the MMTD kitchen. Momma Satari is a pescatarian who only makes healthy food while Momma Kellie is a mother of six who is used to making 30 minute meals on a tight budget. Who will reign triumphant when the heat is turned up in this cooking competition?

Episode

6

-

Baked Chicken and Yams

It's a battle of Baked Chicken and Yams with Yvette Humphries and Liza Barney facing off in the MMTD kitchen. Both free-spirited mommas feel confident in their cooking abilities, and don't hold back when it comes to taking risks in the kitchen. They push the limits to create unique dishes, but their bold cooking styles could backfire, as they race to finish in time.

Episode

4

-

Fish Tacos and Coleslaw

Fish tacos and coleslaw; Debbie Moore and Dorothy Clarke.

Episode

3

-

Crab Cakes and Green Tomatoes

It's a battle of Crab Cakes and Fried Green Tomatoes, when Avarita Hansen and Natascha Sherrod face off in the MMTD kitchen.

Episode

2

-

Chili and Cornbread

It's a battle of Chili and Cornbread with Stella Crowell and Terri Grace competing in the MMTD kitchen.

Episode

1

-

Squash Casserole and Green Salad

My Momma Throws Down is an original food competition show where the only thing that matters in the end is taste. But, along with healthy portions of food, these contestants and their families will be serving up a serious side-order of attitude as family dynamics becomes as important as the competition itself.
If You Like My Momma Throws Down, Then Try...