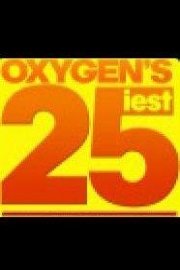 Watch Oxygen's 25iest
Oxygen's 25iest is a television show that showcases the top 25 moments in various categories such as shocking moments, bad girls, celebrity scandals, most notorious criminals, and much more. The show delves into some of the most amazing and stunning moments in pop culture history, shedding light on the most talked-about events and celebrities.
The program showcases various moments throughout different years, historically and culturally significant milestones, feuds, and various everyday situations that have impacted pop culture. With a strong focus on reality TV, the show is often characterized by its investigative reporting and behind-the-scenes secrets.
Oxygen's 25iest brings together the most electrifying moments of the past and present, featuring well-known celebrities and their scandals, as well as shocking criminal cases that have captivated the nation. Some of the celebrities that have been featured on the show include Lindsay Lohan, Chris Brown, Kim Kardashian, Justin Bieber, and many others.
Throughout the course of each episode, the countdown of the top 25 list is revealed, starting from number 25 and counting down to the most influential moment at number one. The show includes interviews with celebrities, law enforcement officials, and pop culture experts, along with unseen footage, revealing details about how each moment captured the nation's attention.
In addition to focusing on the biggest moments in pop culture, the show also dives into the most shocking cases in true crime, presenting the most notorious criminals of all time along with their heinous crimes. From Ted Bundy to O.J. Simpson, Oxygen's 25iest offers an in-depth look at the most infamous criminals in modern history.
The show is hosted by various pop culture experts, who provide commentary throughout the episodes alongside the interviewees. These hosts add a layer of depth to the show, allowing viewers to better understand and contextualize the historical impact of each moment.
One of the most notable aspects of Oxygen's 25iest is its dedication to presenting exclusive behind-the-scenes footage and interviews. Many shocking moments in pop culture have been captured on camera, and the show makes sure to air all the unseen glimpses of these moments. This approach has made Oxygen's 25iest a must-see for many pop culture enthusiasts.
Overall, Oxygen's 25iest is a show that provides a definitive look into some of the greatest moments in pop culture history. By shining a light on these moments and providing behind-the-scenes insight, the show offers a new perspective on events that have had a profound impact on society at large. Whether you're a pop culture enthusiast or a true crime fanatic, Oxygen's 25iest has something to offer everyone.