Peanuts Motion Comics
Lovable loser Charlie Brown lives in a quiet neighborhood with his precocious sister Sally and his incredibly creative dog Snoopy, as well as several friends. These include the philosophical Linus, his bullying sister Lucy, accomplished pianist Schroeder, perpetually dirty Pig-Pen and several others. They also have friends in other parts of town, including nerdy Marcie, tomboyish Peppermint Patty and black Franklin. Although they often have interpersonal conflicts, there is deep affection among them, and these kids are able to live in reasonable harmony with each other without resorting to any help from the adults in their lives.
1 Season,

20

Episodes

October 20, 2008

/

10

Cast:

Leigh Bourke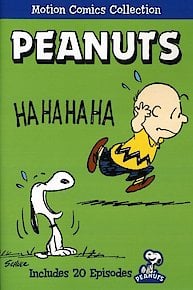 Peanuts Motion Comics Full Episode Guide
Episode

20

-

Valentine's Day

Charlie Brown is hoping the red-haired girl he has a crush on gives him a Valentine's Day card.

Episode

19

-

The Good Brother

Linus gets frustrated with Lucy as she constantly gets the upper hand in their sibling quibbles.

Episode

18

-

Services Rendered

Charlie Brown gets a bill from Lucy for her efforts to help him, while Snoopy promotes National Dog Week.

Episode

17

-

All Your Faults

Saying she wants to help him, Lucy provides Charlie Brown with a slide presentation of all his faults.

Episode

16

-

Mother's Day

Lucy gives Linus orders from their mother, while Snoopy is in fear of getting his next rabies shot.

Episode

15

-

Crabby Little Girl

Lucy asks everyone if she's a crabby person and gets honest answers, much to her chagrin.

Charlie and Linus try to find their own courage.

Episode

13

-

Science Project

Lucy uses Linus for a school project.

Episode

12

-

I'm New At It

Linus is trying to meditate for the first time because he's sad, and Charlie Brown and Lucy try to help in their own ways.

The first snow of winter arrives and Linus writes a letter to Santa Claus while Snoopy tries to keep his doghouse from being snowed under.

Episode

10

-

Back on the Mound

Charlie Brown recovers from his injury and returns to pitch, while Lucy flirts with Schroeder during the baseball games.

Episode

9

-

Ready to Pitch

When Charlie Brown stands down as pitcher because of his injury and becomes the Little League team's manager, he coaches Linus on how to pitch.

Both Charlie Brown and Linus want to find a way to be happier people.

During a huge rain storm, Snoopy tries to stop his dog house from sinking into a flood.

Episode

6

-

The Great Pumpkin

Linus prepares for the arrival of the Great Pumpkin while Lucy torments Charlie Brown yet again on a football field.

Episode

5

-

Eraserophagia

Charlie Brown is diagnosed with a condition from nibbling on too many erasers while Snoopy thinks about food.

Episode

4

-

Independence Day

School lets out and Charlie Brown and Snoopy prepare for a camping trip, while Linus wonders what Independence Day means.

When Charlie Brown has trouble getting hitters out, Lucy and the team encourages him to stop pitching and get his arm looked at.

Linus picks Charlie Brown to be his running mate, but will a series of speeches by Linus seal the election?

Episode

1

-

Linus for President

Lucy convinces Linus to run for student body president and becomes his campaign manager.