Queer as Folk
Queer as Folk is a British television series that is broadcast on the Channel 4 network. Created and written by Russell T. Davies, the show follows the lives of several gay young men who reside in the Manchester gay district located near Canal Street. Produced by the Red Production Company, the title comes from a saying that infers that there is nothing as strange as people, using the synonym of queer as meaning homosexual.
The main characters of the series include Stuart Alan Jones (played by Aidan Gillen), a very attractive, sexually successful and active man. Vince Tyler (played by Craig Kelly) is an old time, at first, closeted friend who happens to have a crush on Stuart. He is also average looking and much less successful at attracting men. Nathan Maloney (played by Charlie Hunnam) is an attractive 15-year-old boy who is very new to the gay life, though not lacking in self-esteem.
Stuart is a very authoritative advertising executive with a power to turn virtually anything into what he desires at any given time. Stuart's theory is that he should, and therefore does, whatever he wishes, whenever he wants and in whatever manner desired. For example, in defense of his friend, Alexander, he blows up his nasty mother's car.
He also invites his pal Vince's female colleague, who has a crush on the closeted Vince, to his birthday party - only to introduce her to Vince's boyfriend. When a homophobic salesman offers him to test drive a Jeep, he drives the vehicle through the car dealership window.
Later in the series, the tone becomes more serious, as each character deals with making important and difficult choices about their future lives. Vince, as a huge fan of the show Doctor Who, is featured in various fantasy scenes from the original series.
The producers have insisted that the series only superficially depicts gay urban life and was actually meant to be a fantasy. While the series includes gay male characters, they were structured to be archetypes for the sake of story rather than by representing actual people.
Tuesdays on Channel 4

2 Seasons,

6

Episodes

February 23, 1999

/

10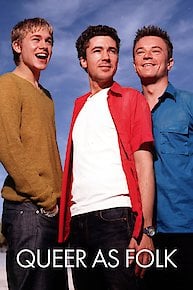 Queer as Folk Full Episode Guide
Episode

2

-

End of the Road

The day after, Hazel is going to The Nero's Sauna in order to meet Stuart, she asks him about Nathan's running away but he doesn't know anything. Then she asks him about his last night with Vince and that other man?

Episode

1

-

Out of the Closet, Into the Fire

Vince and Stuart are coming in Stuart's place with a third man, they're about to have sex but Vince don't feel good about it and decides to leave.
Episode

4

-

Death and Remembrance

Stuart throws a huge surprise party... for Vince's 30th birthday.

Episode

3

-

It Happened One Night

Episode

2

-

Unfinished Business

Vince is trying to match Phil with Alexander, but Alexander returns from holiday with new boyfriend Lee.

Episode

1

-

Meeting People Is Easy

Canal Street, Manchester. It's Thursday and that means nineties night in the Babylon Club. Phil hasn't pulled and nor has Vince, but Vince is being followed by a muscle man.