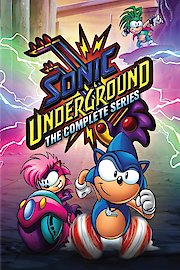 Watch Sonic Underground
TV-Y7
1999
2 Seasons
Sonic Underground was a children's animated television series that aired on UPN from 1999 to 2000. The show was based on the popular video game character Sonic the Hedgehog and followed the adventures of Sonic and his siblings, Sonia and Manic, as they fought to free their home planet from the evil ruler, Queen Aleena.
The series was set on the planet Mobius, which had been enslaved and oppressed by Queen Aleena for many years. Sonic and his siblings were members of the royal family, but they had been separated at birth by their mother, who had sent them away to protect them from the queen's tyranny. As they grew up, Sonic, Sonia, and Manic honed their individual skills and abilities, and eventually came together when they learned the truth about their past and their mother's plan.
Together, the three siblings formed a band called Sonic Underground and used their music as a cover to travel across Mobius and gather allies to their cause. Sonic was the lead singer and guitarist, Sonia played keyboards and sang backup, and Manic played drums and was the group's mechanic. Along the way, they would encounter various obstacles and enemies, including Dr. Robotnik and his robotic minions, as well as other rebellious groups who were struggling against Aleena's rule.
The animation style of Sonic Underground was unique and colorful, with bright, bold colors and a distinctive character design for each of the main characters. Maurice LaMarche voiced Sonic, Garry Chalk voiced Manic, and Gail Webster voiced Sonia, giving each character a distinct personality and style. The music in the show was also a key element, with each episode featuring several original songs performed by the characters themselves. The songs ranged from rock and roll to pop to ballads, with each one adding to the overall story and atmosphere of the show.
One of the most notable aspects of Sonic Underground was its strong emphasis on family and loyalty. Sonic, Sonia, and Manic were all fiercely devoted to each other and to their mission, and the show often explored the themes of family bonds and the importance of working together to achieve a common goal. The series was also notable for its strong female characters, particularly Sonia, who was portrayed as a tough and capable warrior as well as a talented musician.
Overall, Sonic Underground was a fun and engaging children's show that combined music, action, and adventure to create a unique and memorable viewing experience. While it may not have achieved the same level of popularity as some of its more well-known contemporaries, it remains a beloved cult classic among fans of the Sonic the Hedgehog franchise.
Sonic Underground is a series that is currently running and has 2 seasons (102 episodes). The series first aired on August 30, 1999.