Sunset Daze
This show takes place in Arizona. The Sun City is a place where many people go after retirement. This show reveals how these people live their lives on a day to day basis. Many of these people are bored, so this leads them into trouble. Some of these people hate this city and wish they never retired in the first place. Other people mind their own business and enjoy having the freedom of retirement.
Wednesdays at 10:00 PM on WE tv

1 Season,

11

Episodes

April 28, 2010

/

10

Cast:

Michael Jason Allen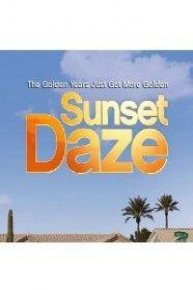 Sunset Daze Full Episode Guide
Linda is chosen to plan the prom event. Who will be crowned king and queen and who will win the dance competition?

Episode

10

-

I Do...Again

Joanne and her husband decide to renew their vows. Joanne puts Sandy and Linda in charge of the event at the lake.

Episode

9

-

Hollywood or Bust

Ann wants her husband to drive a real race car while he still has some of his eyesight.

Episode

8

-

Fast Times at Sun City Grant

Linda and Bruce's relationship continues to go downhill while some of the girls are placing bets on golf cart races.

Episode

7

-

Break a Leg, Not a Hip

Episode

6

-

The Show Must Go On

Episode

5

-

Every Dog Has His Day

Episode

4

-

Top Gun and Tiaras

Jack is trying to date a new lady and take pilot's lessons. Meanwhile, Sandy has a drink in hand while celebrating her daughter's three-month sobriety.

Episode

3

-

Grannies Gone Wild

LeWanda has a party where the girls learn how to pole dance with a hot male instructor.

Episode

2

-

Love, Lassos, and Liver Spots

Sandy returns to the shooting range to ask Mark out.

Episode

1

-

We're Retired, Not Dead

Widowed Sandy takes a ride in a hot air balloon, while ex-nun Ann goes extreme.