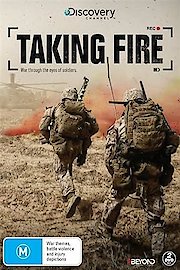 Watch Taking Fire
Taking Fire is a gripping documentary series from the Discovery Channel that follows a group of soldiers during their deployment to Afghanistan. The show provides viewers with an intimate look at the lives of these brave men as they navigate the dangers and challenges of a war zone.
The series focuses on the experiences of several soldiers, including Kevin Conroy, J.J. McCool, and Kyle Boucher. Through their candid interviews and first-person footage, viewers get to know these soldiers on a personal level and gain insight into the unique bonds and camaraderie that develops between soldiers in combat.
One of the most compelling aspects of Taking Fire is its unflinching portrayal of the realities of war. The show does not shy away from the harshness and brutality of combat, and viewers witness firsthand the devastating toll that war takes on both the soldiers and the communities caught in the crossfire.
But amidst the chaos and danger of their mission, the soldiers of Taking Fire maintain a remarkable sense of humor, camaraderie, and moral courage. Through their interactions with each other and with the local people they encounter, viewers witness the humanity and compassion that underlie even the most difficult and dangerous situations.
The soldiers of Taking Fire are real people, with fears, hopes, and dreams just like anyone else. They face incredible challenges every day, both physical and emotional, as they put their lives on the line to protect others. Through their bravery and sacrifice, they demonstrate the best of what it means to be human.
Although Taking Fire has its share of harrowing moments, it is ultimately a hopeful and uplifting series. It provides a unique and powerful window into the experiences of soldiers in war, and highlights the remarkable resilience, courage, and humanity that exist even in the most extreme circumstances.
Whether you are a military veteran or simply curious about the realities of war, Taking Fire is a must-see series. Through its poignant storytelling and compelling characters, it provides a powerful reminder of the sacrifices that our soldiers make every day, and of the deep bonds of brotherhood that exist between those who serve together.
Taking Fire is a series that is currently running and has 1 seasons (5 episodes). The series first aired on September 12, 2016.