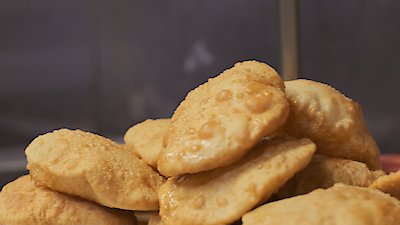 Ep 3. Don't Mind if I Dosa
TV14
June 18, 2020
In season 1 episode 3 of Taste the Nation with Padma Lakshmi, titled "Don't Mind if I Dosa," the award-winning host and food enthusiast Padma Lakshmi explores the world of Indian cuisine in the United States.
Throughout the episode, Lakshmi takes viewers on a culinary journey through the diverse regions and flavors of India, from the south Indian state of Tamil Nadu to the bustling streets of New York City.
The episode begins with Lakshmi traveling to California's Silicon Valley, where she meets with entrepreneur Ritu Jha, who introduces her to Dosa, a popular Indian dish made with fermented rice and lentils. Lakshmi learns how to make dosa from scratch and is impressed by the savory and aromatic flavors of this Southern Indian staple.
Next, Lakshmi travels to Washington, D.C., to visit Rasika, a popular Indian restaurant known for its modern interpretations of classic Indian dishes. She sits down with the restaurant's co-owner, Ashok Bajaj, who shares the story behind his success in bringing Indian cuisine to the mainstream.
From D.C., Lakshmi journeys to New York City, where she explores the thriving Indian food scene with journalist Chitra Agrawal. They visit a variety of Indian restaurants and food trucks, sampling everything from Samosas to Chaat, and discussing how Indian cuisine has evolved and adapted to American culture.
Finally, Lakshmi heads to New Jersey to meet with Chef Maneet Chauhan, who prepares a Southern Indian feast featuring dishes such as Fish Curry and Eggplant Masala. Chauhan discusses how Indian cuisine is much more than just Chicken Tikka Masala and Curry, and shares her love for the complex and dynamic flavors of Indian cooking.
Overall, "Don't Mind if I Dosa" is a fascinating exploration of Indian cuisine in America, highlighting the rich history and diverse flavors of this beloved cuisine. With Padma Lakshmi at the helm, viewers are treated to an authentic and insightful look into the world of Indian food.