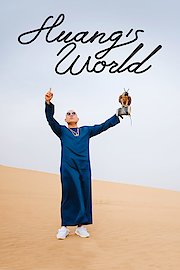 Watch Huang's World
TV-14
2012
4 Seasons
Huang's World is a travel and food show which premiered on Viceland in 2013. The show is hosted by Eddie Huang, who is a renowned chef and author of Fresh Off the Boat: A Memoir. Huang travels around the world, exploring various cultures and cuisines, and showcasing the diverse and eclectic flavors of each region he visits.
The show is known for its unique blend of food, pop culture and politics. Throughout the series, Huang not only tries the local cuisine but also engages with the local community to gain insight into their way of life. Huang's strong personality, humor and honest opinions generate conversations about race, identity, socio-economic issues and the politics of the places he visits.
Each episode of the show focuses on a different theme and location. In the first season, Huang traveled to China, Japan, Mexico, Taiwan, and the United States. In China, Huang visits his ancestral home and explores the country's emerging culinary scene. He samples delicacies such as pigeon, dried duck and snake, and also experiences the intensity of Chinese club culture.
In Japan, Huang explores both traditional Japanese cuisine and the country's vibrant street food scene. He visits a market where he tries the famous fatty tuna sushi and a popular snack called takoyaki. He also visits a robot restaurant and tries out its futuristic menu.
In Mexico, Huang discovers the rich history of Mexican food and its vast regional variations. In Taipei, Taiwan, Huang explores local night markets and tries some Taiwanese delicacies, such as stinky tofu and oyster omelets. In the United States, Huang travels to New Orleans and Miami, where he explores the influence of African and Latin-American cuisine.
The show also delves into the cultural and social issues affecting the communities Huang visits. For example, in Japan, Huang speaks to a group of African-American expatriates about their experiences with discrimination and assimilation. In Mexico, he visits a Piñateria that specializes in building piñatas in the shape of Donald Trump, which raises questions about immigration and political policies.
The show's unique blend of entertainment and education has been praised by critics for its authenticity and refreshing take on food and travel. Huang's ability to connect with locals and share their stories and experiences adds a deeper layer of understanding to the various cultures he visits.
Overall, Huang's World is an engaging, thought-provoking and humorous journey across the globe, exploring the cultural and culinary treasures of each location. It is a must-watch for foodies, travelers and anyone who is interested in experiencing the world through a different lens.
Huang's World is a series that is currently running and has 4 seasons (54 episodes). The series first aired on October 15, 2012.