The Force: Behind The Line
The Force: Behind The Line is another reality TV show that takes a behind-the-scenes look at a certain police force. This show appears on Seven Network. The police force in question is the Western Australian police force. Each episode looks at three to four police officers and how they deal with their day-to-day duties. Their duties could include thefts, drug-related incidents and murder.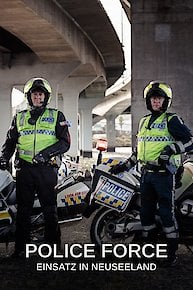 The Force: Behind The Line Full Episode Guide
At just nineteen Martin Riley is already a wanted man. He's been committing serious burglaries, getting away with goods worth hundreds of thousands of dollars.

Police investigate a case of missing victims when occupants of a badly damaged vehicle are witnessed fleeing the scene of a car crash.

A man is reported missing on a lonely Perth beach in the most unusual circumstances. Police launch a full scale land and sea search under the cover of darkness in one of the most baffling cases.

Highway Officers immediately respond to reports of gunfire in a quiet suburban neighborhood. They are joined by detectives who work fast to track down the gunman. Gosford's Proactive team are on a mission to round up a list of wanted men.

In Cyberspace there are no borders and it seems no boundaries either. One of the most chilling crimes The Force has ever encountered -an online sexual predator is targeting young girls.

NSW State Crime Command raid two hydroponic houses of mind blowing proportions before closing in on the ringleader behind this massive operation -you won't believe how the crooks were getting away with it.

Police are on the hunt for a violent armed robber who brazenly held up a massage parlour in Perth. The man assaulted a woman before fleeing into the night, Has his choice of wardrobe brought him undone? See what else Police find hiding in his home.

Drug raids are common practice for the Western Australian Police and their daily fight against crime but what happens when the prime suspect is a 72-year-old grandmother?

When police get reports of a gunman roaming suburban streets they are quick to respond. Public safety is the most important thing in situations like this and every precaution needs to be taken.

A brazen robber armed with tradesman tools has held up nine shops in Perth. And he's becoming more and more confident. Police are worried it's only a matter of time before someone is seriously hurt or killed.

Officers are patrolling a rural area with the benefit of an un-marked car. A 19 year old father is found doing 60 kilometres over the speed limit with his eight week old baby in the back.

Detectives are targeting a man with a long history of drug dealing. The officers know that two children live at the house so they'll try and wait until the kids aren't there before moving in.

The MEOC squad find half a dozen youths playing with fire crackers on a Friday night. Even though the kids claim they found the fireworks and didn't know what they were, they cop a large fine.

The NSW Rural Crime Investigators pack their swags and hit the open road for a few days -this is all part of the job. A Friday night patrol becomes eventful when officers try to disperse over 200 youths at an out of control party.

In Perth, surfers have just witnessed a thief stealing valuables from a vehicle in the beach car park. Police gain a warrant to do a pre-dawn raid on the suspect's home.

In Albury, Strikeforce Roll has been set up to shut down a drug distribution network by executing 6 search warrants simultaneously in a highly coordinated series of arrests. Officers rush to a nearby caravan park after reports of three serious assaults.
When a drunken man swims out to sea with a bottle of whisky in one hand and starts abusing lifeguards who are trying to save him, local police are called into action.

Operation Tari, aims to shut down illegal brothels and check the legality of workers. While entering an upstairs premises police hear a cry outside and find a Chinese women lying injured on the concrete.

Perth Detectives are gearing up to shut down a drug dealer known for concealing his drugs in unusual places. The house is well fortified and the police head out in force before the man can destroy any drugs.

The South Western Regional Enforcement Squad (RES) are called to a citizen's arrest at a suburban break and enter which occurred when the owner surprised burglars in his home. Two burglars are thought to still be on the premises.

Officers from Campsie Pro-actives spot three young people sitting in a parked car. There's a good chance they're consuming drugs and the vehicle might be stolen. Despite protestations of innocence, a search of the car turns up a large bag of cannabis.

Middle Eastern Organised Crime Highway Officers come across a suspicious vehicle - it's driver is listed as disqualified with an out of date Learners Licence. A fire has broken out adjacent to the Kwinana freeway in WA during peak hour traffic.

Officers from Strike Force Lana are ready to take down a suburban drug syndicate. Today they're expecting a $100k heroin deal to take place on the streets of Sydney.

Police are making a snap visit at one popular train station, spending the several hours detecting and searching anyone suspected of carrying illegal substances.

Gosford Detectives are planning to arrest a man wanted for a revoked parole. On a hot Darwin morning police receive an urgent call from security at the Berrimah Detention Centre.

The traffic enforcement group in Perth are using sophisticated traffic intelligence to target recidivist traffic offenders and make the roads safer.

A rise in the number of guns in sw-syd has Police investigating the access gangs have to illegally manufactured weapons. Almost a year to the day earlier, Justin Enwiya was found guilty of possessing a home-made gun.

During 5 months of lengthy surveillance Police identify three people involved in the supply of marijuana and other illicit drugs.

It's Monday afternoon in the Auburn command and Senior Constable Adam Leach and his partner Senior Constable Melissa Martens are on the trail of a young male criminal whose believed to be involved in a spate of recent car thefts.

When a call comes across the radio of a break and enter in progress a few suburbs away, Police speed to the scene as quick as they can. Reaching of speeds pf over 120km/h in a 60 zone, it's clear Police take every break-in very seriously.

For several months Police on the NSW South Coast have been trying to limit the drug supply emerging from the Steel City of Port Kembla.

Perth armed robbery detectives have one and possibly two crooks on their radar.

While the officers are writing a routine ticket, a five car pile up happens right in front of them and some people are injured. Constable Hawkins and Constable Kowalcyk rush to assist and they call on their radio for further police and an ambulance.

It's the peak of the ski-season in Australia's Snowy Mountain region and police have a hard job ahead of them. The influx of travellers to the area means Police will have a tough task ensuring people remain safe on and off the slopes.

Armed Robbery Squad detectives are on the scene of a hold up that has only just happened. A man has walked into this newsagency and told the elderly manager to hand over the money.