The Houstons: On Our Own
The Houstons: On Our Own, is a show that follows the late Whitney Houstons family in the aftermath of her untimely death. This loving and courageous family allows us to look into their lives as they pick up the pieces and try to move forward. Bobbi Kristina Brown, daughter of the late Whitney Houston and Bobby Brown is the main focus. We see her ups and downs coping with her loss and the family pulling together to make sure she does not follow in her late mothers' addiction footsteps. The cast is mostly made up of family; however there are many friends of the family included in this program.
Bobbi Christina Brown is the main focus, in which the family tries to help her deal with her grief, her future and new singing opportunities. We watch as they band together as most families do after such a great loss. Aunt Patrica Houston, Whitney's sister-in-law and best friend has taken the mother role; thou there is some resistance from Bobbi Kristina. Their loving bond is in tack, but heads often clash when Aunt Patrica tries to run Bobbi Kristina's life.
Sissy Houston, Whitney's mother and Bobbi Kristina grandmother is not a visual regular but, her name is often thrown around as the matriarch of the family. We see how Sissy Houston tries to reach out to her granddaughter with little success. Also in this cast of players are Gary Houston, Whitney's brother and Rayah Houston, Gary and Patricia's daughter and Bobbi Kristina's cousin. These supporting family members add balance and warmth to a fragile situation. Dionne Warwick, cousin to Bobbi Kristina, along with CeCe Winans a close family friend also try to help Bobbi Kristina stay on the right path.
This show is filled with love, laughs and a family that has picked up the pieces after such a traumatic situation. They are trying to move with life, while in the spotlight of the world. This is a one of a kind program that allows you to see that celebrities mourn, live and try go on just like everyone else. The Houstons: On Our Own, is one of those shows you have to see to believe, because you see how real they are.
1 Season,

14

Episodes

October 24, 2012

/

10

Cast:

Patricia Houston, Bobbi Kristina Brown, Nick Gordon, Gary Houston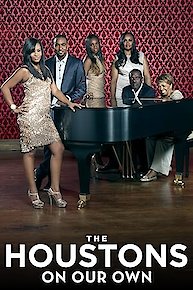 The Houstons: On Our Own Full Episode Guide
Episode

14

-

New Beginnings, Part 2

Pat shares some unwelcome news with Nick and Gary about Krissy's career.

Episode

13

-

New Beginnings, Part 1

Nick and Krissy throw a housewarming party, with Pat's assistance. Will Bobby Brown make an appearance? Krissy reveals that Nick isn't the only man in her life.

Episode

12

-

We Are Family

Episode

11

-

A Houston Family Vacation

Pat plans a spiritual retreat in Hawaii where the family participates in ceremonies to help them move on with their lives without forgetting Whitney.

Episode

10

-

All That Sparkles

The Houstons head to Los Angeles to attend the red carpet premiere of Sparkle, and to honor Whitney.

Episode

9

-

Guess Who's Coming To Dinner

Cissy Houston's arrival shakes things up. Meanwhile, Krissy is absent during family activities in order to concentrate on an acting career.

Episode

8

-

Calling All Houstons

Pat struggles with the demands of trying to balance her time between Krissy and her own daughter.

Episode

7

-

A Cabin in The Mountains

The family head to the mountains for a spiritual retreat, but their trip is interrupted when someone is sent to the emergency room.

Episode

6

-

Cupcakes for Krissy

Feeling that Krissy should be surrounded by family, Pat invites Krissy s godmother, CeCe Winans, over for dinner. But things go awry when Krissy's cousin, Meeta, calls her out for her bad behavior.

Episode

5

-

Moving Pieces

Nick and Pat try to distract Krissy from thinking about her mom by taking her to adopt a puppy and to buy some furniture. Later, Pat challenges Gary to a game of basketball to determine who is in better shape.

Episode

4

-

Too Little, Too Late

Nick and Krissy stay at home while Pat and the rest of the family head to LA for BET's tribute to Whitney. Back in Georgia, Krissy's grief consumes her.

Episode

3

-

Nothing Saint About Simon

Nick crashes Krissy's weekend with Pat, so Gary and Ray educate him on responsibility.

Episode

2

-

Houston, We've Got a Problem

Pat is worried about Krissy's choices and who she spends her time with.

Episode

1

-

100 White Roses (Pilot)

In the series premiere, Whitney Houston's family comes together on Mother's Day. Bobby Kristina makes a big announcement.