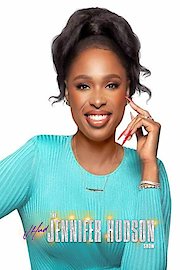 Watch The Jennifer Hudson Show
TV-PG
2022
2 Seasons
The Jennifer Hudson Show is an American daytime talk show that premiered on September 12, 2022. Hosted by actress and singer Jennifer Hudson, the show features celebrity interviews, musical performances, human interest stories, and segments offering advice on fashion, fitness, cooking, and lifestyle topics.
The set of The Jennifer Hudson Show has an urban, relaxed vibe with warm tones of orange and brown. Hudson enters through the audience to open each episode before sitting down with guests on a curved couch. She engages in candid, often emotional conversations punctuated by her own infectious laugh. Her interview style is intimate yet lively as she bonds with both A-list stars and everyday heroes.
Music is a major component of the show. Hudson's Grammy-winning vocals are showcased in song parodies, impromptu duets with guests, and solo numbers accompanied by a live band. Performances range from her belting soul classics to gentle ballads, allowing her vocal range to shine. The show also welcomes established and up-and-coming musical guests from various genres.
In addition to interviews, each episode features multiple segments tailored to Hudson's varied interests. She shares healthy, Southern-inspired recipes on "JHud's Kitchen," highlighting her passion for cooking. "Jenn's Trends" focuses on fashion, beauty tips, and affordable style finds. Fitness routines and motivational messages are presented in the "Be Fit with Jenn" segment.
Hudson also uses the show's platform to highlight good news and inspirational people making a difference. Her "Hudson Heroes" segment tells emotional stories of community heroes, spotlighting their selfless acts of service and kindness. Other topics include heartwarming family reunions, community revitalization efforts, and triumphs over adversity.
The show's tone is spirited yet relaxed, enhanced by Hudson's magnetic, down-to-earth presence. She radiates authenticity, warmth, and positivity while engaging guests in fun banter. Her contagious laugh and words of affirmation create an uplifting viewing experience suited for morning and daytime audiences.
In its first season, The Jennifer Hudson Show has featured interviews with high-profile names like Magic Johnson, Michelle Obama, and Simon Cowell while also sharing inspiring stories about teachers, activists, and everyday heroes. Jennifer Hudson's unique blend of talent, heart, and humor continues to resonate with viewers looking for lighthearted entertainment and good news.