Thirtysomething
Thirtysomething was a dramatic television series that first aired in September of 1987 and lasted for only four seasons. The final of Thirtysomething's episodes aired on May 28th, 1991. Even though the show only had a four year run of new episodes it has lived on since then in re-runs. The show was ranked as one of the best television shows of all time in 2002 by TV Guide. The show revolves around several thirty something baby boomers, many of them couples. They all live in middle class neighborhoods in Philadelphia, Pennsylvania.
The show placed most of its focus on the daily struggles of its main characters. The show had three main couples in its character line-up and these were Michael Steadman and Hope Murdoch Steadman, Elliot Weston and Nancy Krieger Weston and Gary Shepherd and Susannah Hart. Melissa Steadman is Michael Steadman's photographer cousin and was at one time Gary Shepherd's girl friend, Ellyn Warren is Hope Murdoch Steadman's friend from childhood and Miles Drentell, Michael Steadman and Elliot Weston's boss.
Follow these main characters as they try to come to grips with the way that their lives are changing. They had all been influenced by the sixties and are involved in the peace movement. They begin to realize that their thirty something lives don't quite add up to their youthful expectations. At times all of them feel like they are selling out or not living up to their full potential.
The show deals with marital problems, cancer, affairs, parenthood and every issue in between. Michael Steadman and Hope Murdoch Steadman are probably the show's focal point characters but all get their fair share of screen time. This show will show you what it's like when you grow up and life is not entirely what you expected. The focus on every day life, which differs with each character, is an interesting view.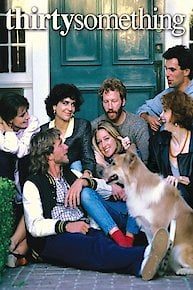 Thirtysomething Full Episode Guide
Episode

22

-

Melissa in Wonderland

Melissa goes to Hollywood to photograph a sitcom star who comes to rely on her advice.

Episode

21

-

A Stop at Willoughby

The stress of working at DAA becomes too much for Michael.

Hope volunteers at a shelter for the homeless and gets personally involved in the life of a woman and her daughter there. She accuses Michael of having lost his social conscience.

Episode

19

-

Out the Door

Michael's fortunes seem to be rising at DAA, but Elliot is more dissatisfied than ever and is ready to quit the job, leading to conflict between the two.

Episode

18

-

Closing the Circle

Michael tries to come to terms with Gary's passing. Among the living, he has problems with Susannah and with Miles and Peter at work.

Episode

16

-

The Difference Between Men and Women

Bachelor and bachelorette parties for Billy and Ellyn provide the backdrop for a look at the various couples' relationships with each other and their fideliity.

Episode

15

-

Fighting the Cold

Susannah returns for Gary's funeral. Melissa is an emotional wreck in the aftermath. She and Susannah come to terms with each other.

Episode

14

-

A Second Look

Episode

13

-

Sifting the Ashes

On a business trip to Baltimore, Elliot confronts issues with his mother and with his religious faith. Ethan too is wondering if religious faith can help his own mother.

Episode

12

-

Advanced Beginners

While Ellyn and Billy are living together temporarily, an old girlfriend of Billy's arrives upon the scene, causing some problems.

Episode

11

-

Melissa and Men

As she prepare for a gallery exhibit devoted to her work, Melissa examines her past relationships with the men in her life and wonders why they have been such failures.

Episode

10

-

Happy New Year

Everyone gathers at the Steadman house for a New Year celebration.

Nancy's continuing treatment for her cancer places more and more of a strain on her and her family.

The "friends of friends" Gary and Ellyn become closer, but it's Billy Sidel that Ellyn is really interested in.

Episode

7

-

Photo Opportunity

Melissa gets a big photo assignment at the same time that her mother breaks her leg.

Episode

6

-

The Guilty Party

Hope tries to do it all, including throwing a surprise birthday party for Michael. Her relentless perfectionism might be rubbing off on Janey.

Episode

5

-

The Haunting of DAA

Amidst a big company layoff, Michael is visited by a mystery man.

An offer of a new job for Susannah leads to her and Gary taking a bold and unexpected step in their relationship. Ellyn finds out that Jeffrey is going back to his first wife

Melissa starts a fledgling relationship with Miles. Ellyn and Jeffrey look for a new apartment.

Nancy feels that the hysterectomy has adversely affected her sex drive.

Episode

1

-

Prelude to a Bris
Episode

24

-

Towers of Zenith Part 2: Samurai Adma...

Michael betrays Miles by helping a company try to buy the DAA, but Miles keeps Michael on the job and reinstates Elliot.

Episode

23

-

Towers of Zenith Part 1: The Go-Betwe...

As Elliot grows more dissatisfied with DAA, Michael finds out something that could change everything about the company.

Elliot is given the chance to direct a public service announcement, but doubt hangs over his ability to do the job.

Michael and Hope's relationship is deteriorating as they gather to attend her parents' anniversary celebration.

Episode

20

-

I'm Nobody, Who Are You?

Old friendships are put on the line when Michael and Hope's good fortunes begins to cause resentment from the less successful Gary and Susannah.

Episode

19

-

The Three Year Itch

The incinerator campaign ends, but Hope prolongs her relationship with John Dunaway; Michael gets a long-awaited raise.

Episode

18

-

The Other Shoe

Episode

17

-

Good Sex, Bad Sex, What Sex, No Sex

The characters discuss their sex lives. While Melissa and Lee's relationship seems to be the strongest, the couple find their situation changing rapidly.

Episode

16

-

Her Cup Runneth Over

Jeffrey leaves his wife and moves in with Ellyn, taking his daughter with him. However, the new arrangement runs into problems straight away.

Episode

15

-

Fathers and Lovers

Melissa has conflicts with Lee over finding him a new job and with her father over his plans to buy her building.

Episode

14

-

Once a Mermaid

Ellyn and Jeffrey have an affair and when Ellyn ends the relationship because of the deceit involved, Jeffrey says he will leave his wife.

Nancy's family and friends deal with the aftermath of her cancer surgery. Starring Patricia Wettig, Ken Olin and Mel Harris.

Episode

12

-

Another Country

Nancy is pleased as her children's book is finally published, but her happiness becomes short-lived when she is diagnosed with ovarian cancer.

Episode

11

-

Pulling Away

Michael is promoted at work and finds himself forced to take on added duties, but has trouble dealing with Elliot. Hope also has to deal with greater responsibility as the incinerator campaign hots up. Starring Ken Olin and Mel Harris.

Episode

10

-

Michael's Campaign

Hope becomes more involved with her environmental project, and Michael has a confrontation with the DAA's creative director.

Episode

8

-

The Burning Bush

Ellyn takes steps toward starting an affair with Jeffrey Milgrom. Hope begins work on an environmental project. Ellyn and Hope's present-day relationship is compared to the one they had in high school.

Elliot is reunited with his family, but Ethan remains full of anxiety - which manifests itself as fear for his safety

Melissa struggles to deal with the age difference between her and Lee, while Russell and Peter start a relationship

Elliot and Michael have a close encounter with disaster on an airplane. Hope's employer, the magazine Synergy, is being taken over and will curtain its environmental watchdog activities. At a dinner party, Hope gets irritated with Michael and Miles' date. Nancy is ready to take Elliot back.

After a difficult labour Susannah gives birth, while Melissa struggles to accept that Gary is now a father

Ellyn and Melissa try using a video dating service. Melissa is unexpectedly attracted to a younger man she meets. Ethan must kiss a girl in the school play.

Hope becomes involved in the relationship troubles of her teenage babysitter - despite the fact she and Michael are going through their own problems at the moment. Guest-starring a pre-fame Brad Pitt in a minor role

A reconciliation with Elliot seems to be imminent for Nancy - much to the disapproval of her visiting mother Eleanor. Patricia Wettig and Elizabeth Hoffman star
Thirtysomething News
'Thirtysomething' Revival in the Works at ABC
But it won't be called 'Sixtysomething.'