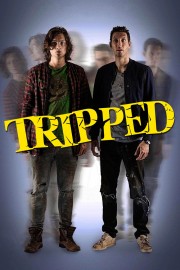 Watch Tripped: Series
Tripped is a British television series that premiered on E4 in December 2015. The show is a sci-fi comedy drama that follows two best friends, Danny and Milo, as they embark on a wild adventure through multiple parallel universes. The show was created by Jamie Mathieson, who is best known for his work on Doctor Who, and stars Blake Harrison as Danny and George Webster as Milo.
The show kicks off with Danny and Milo getting high on a hallucinogenic drug called N-DMD. As they start to come down from their trip, they realize that they are no longer in their own universe. They are in fact in a parallel world, where they encounter versions of themselves that are vastly different from the ones they know. From there, the show takes us on a rollercoaster ride through multiple parallel universes, each with its unique take on the world and its characters.
One of the most intriguing aspects of Tripped is the way in which it explores the concept of parallel universes. The show presents us with a vast array of different worlds, each of which is a variant on the one we know. In some universes, Danny and Milo are celebrities, while in others, they are criminals. In some, they are brothers, while in others, they hate each other. The show uses this concept to explore big questions about identity and free will. What makes us who we are? Could we have become someone else if we had made different choices?
The heart of the show, however, is the friendship between Danny and Milo. Their bond is the anchor that keeps the show grounded, even as the worlds they visit become increasingly bizarre. Blake Harrison and George Webster have fantastic chemistry, and their banter is at times hilarious and at others heartwarming. They are a joy to watch, and their relationship is one of the show's biggest strengths.
In addition to the two leads, Tripped also boasts an impressive supporting cast. Jaime Winstone plays a tough-talking tattoo artist who becomes Danny's love interest in one universe, while Richard Gadd appears as a sinister government agent. There are also appearances from big names such as Javone Prince and Philip Glenister, who add their own unique flavor to the mix.
The show's production design is another standout element. Each parallel universe has its own distinct aesthetic, whether it's a futuristic dystopia or a psychedelic wonderland. The attention to detail is impressive, and the show is visually stunning throughout.
Despite its sci-fi trappings, Tripped is ultimately a very human story. It's about the choices we make and the people we become as a result. It's about the bonds we form with others and the lengths we will go to protect those we love. And, of course, it's about two best friends who find themselves in way over their heads but manage to make it through together.
In conclusion, Tripped is a highly entertaining sci-fi comedy drama that explores big ideas while never losing sight of its heart. It's funny, touching, and at times, downright crazy. The show's imaginative world-building and excellent cast make it a must-watch for anyone who loves a good adventure.
Tripped: Series is a series that is currently running and has 1 seasons (4 episodes). The series first aired on December 8, 2015.