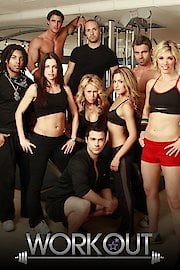 Watch Work Out
Work Out is a reality television series that premiered on Bravo in July 2006. The show revolves around the daily lives of personal trainers at a high-end gym in Beverly Hills called Sky Sport and Spa. The show was hosted by trainer and fitness model Greg Plitt and also featured other trainers at the gym along with their clients.
The show was shot in a documentary style and followed the personal and professional lives of the trainers as they worked with their clients to help them achieve their fitness goals. Each episode typically focused on one or more of the trainers and their clients as they worked together to overcome obstacles and push past their limits.
One of the main draws of the show was watching the interactions between the trainers and their clients. Each week, clients would come to the gym with their own set of challenges, whether it be losing weight, building muscle or simply improving their overall fitness level. The trainers would then work with their clients to develop personalized training programs and offer coaching on nutrition and lifestyle changes.
In addition to the personal training sessions, the show also featured group fitness classes like yoga, spinning and kickboxing. The trainers would lead these classes and interact with the clients to push them to their limits and provide encouragement and motivation.
The trainers themselves had their own challenges to overcome as well. Each episode would give a glimpse into their personal lives as they dealt with their own struggles, whether it be with relationships, family issues or their own fitness goals. Viewers got to see the trainers as real people, rather than just muscle-bound fitness machines.
One of the most popular trainers on the show was Jackie Warner, who owned the gym and was also a successful entrepreneur with her own line of fitness DVDs and supplements. Jackie was known for her tough love approach with her clients and pushed them to their limits, often making them cry or curse at her in frustration. Her catchphrase "see ya, wouldn't wanna be ya" became a meme in the fitness world.
Another popular trainer on the show was Brian Peeler, who was known for his witty one-liners and intense workouts. Brian was a former Marine and brought his military training to his workouts, often yelling at his clients to push them harder.
Throughout its run, Work Out tackled a number of important issues in the fitness industry, such as body image, eating disorders, and the use of performance-enhancing drugs. The show provided a platform for trainers and clients to share their stories and experiences, and helped to shed light on the challenges that people face when trying to achieve their fitness goals.
Overall, Work Out was a groundbreaking show that brought the world of personal training and fitness to the mainstream. It was popular among fitness enthusiasts and casual viewers alike, and helped to launch the careers of several of its trainers. The show ran for three seasons from 2006 to 2008 before being cancelled, but its impact on the fitness industry can still be felt today.
Work Out is a series that is currently running and has 3 seasons (25 episodes). The series first aired on July 19, 2006.