Watch 30 Years of National Geographic Specials
National Geographic has for many years presented some of the most stunningly beautiful scenes ever recorded in its documentaries. This special highlights some of the most impressive of them over the last 30 years. Wild animals from snakes to sharks are covered in short segments of the original presentations.
This special is very popular with teachers, students, and nature lovers in general. While viewers will see nothing new, that hardly detracts from the collection's beauty, entertainment, and educational value.
1 Season,

12

Episodes

December 14, 1999

10

/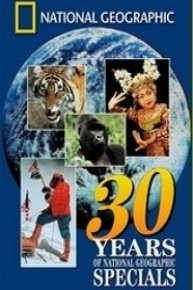 30 Years of National Geographic Specials

Full Episode Guide
Episode

12

-

Russia and the West: Putin Takes Cont...

After Vladimir Putin announced his intention to return as President and declared his party the winner in parliamentary elections that are widely seen as fraudulent, tens of thousands took to the streets that December in Moscow in the largest protests since Putin came to power. Now, Putin's top colleagues - and the Western statesmen who clashed with him - tell the inside story of one of the world's most powerful men.

Episode

11

-

Quest for the Lost Maya

Quest for the Lost Maya follows American archaeologists George Bey and Bill Ringle and their Mexico colleague Tomas Gallareta Negr³n as they find startling evidence of a forgotten Mayan society in the Yucatan. Buried beneath an ancient pyramid deep in the Yucatan jungle, the team discovers a still more ancient royal palace complex.

Episode

10

-

Italian Cruise Ship Disaster: The Unt...

Italian Cruise Ship Disaster: The Untold Stories weaves together in-depth stories from passengers and staff on board as well as Coast Guard rescuers with stunning home video and CGI to reconstruct the sinking of the Costa Concordia as it happened. Working to understand this current headline tragedy more fully, National Geographic uncovers the decisions that cost lives and the heroes who saved them.

Episode

9

-

Cave People of the Himalaya

In the 1990s, a high Himalayan cave in Upper Mustang, Nepal, was discovered that contained 42 ancient people, buried on wooden bunk beds. American archaeologist, Dr. Mark Aldenderfer, believes there must be more burial caves but the challenge is how to find them, deep within cliff faces in the cold and inhospitable environment of the Himalaya. He needs the world's best technical climbers to do the searching.

Episode

8

-

The Real Roswell

Episode

7

-

Slave Girls of India

Episode

6

-

Inside al Qaeda

Episode

5

-

Illicit: The Dark Trade

Episode

4

-

Hawaii: Strangers In Paradise

Episode

3

-

The Flight of the Jet Man

Episode

2

-

Braving Alaska

Episode

1

-

30 Years of National Geographic Speci...
If You Like 30 Years of National Geographic Specials, Then Try...