Watch Full Episodes of Bam's Unholy Union

Season 1 Episode 9
The Unholy Union (42:55)
Season 1 Episode 8
I'll Never Be Single... (21:25)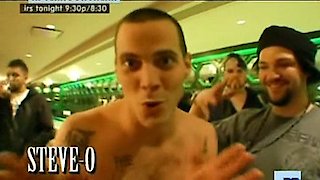 Season 1 Episode 7
Bam's Gone Wild (21:35)
Season 1 Episode 6
The Unicorn Whispere... (21:29)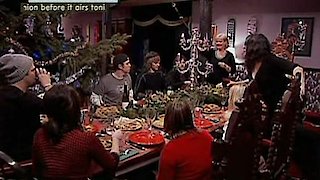 Season 1 Episode 5
Flipping the Christm... (21:32)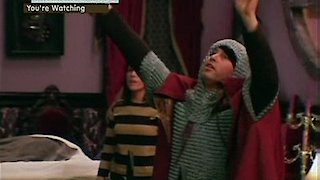 Season 1 Episode 4
Off With Her Shirt (21:29)

Bam's Unholy Union

Full Episode Guide
Episode

10

-

Finale Special

Exclusive footage from this season.

Episode

9

-

The Unholy Union

Episode

8

-

I'll Never Be Single Again

The clock is definitely ticking as Bam and Missy gear up for their wedding - one week away. There is no shortage of things to do and topping the list is getting everything done in time to welcome friends and family to Philly for their rehearsal dinner. It's all up in the air, as our anxious couple will have to get their act together or have a lot of explaining to do.

Episode

7

-

Bam's Gone Wild

With three weeks until the wedding, it's time for Missy and Bam to head out to their respective bachelor and bachelorette parties. Missy heads off to a nice relaxing spa vacation while Bam and the Jackass boys take to Vegas. Activities couldn't be more different, as Missy enjoys yoga and massages and Bam enjoys booze, bands and the ladies.

Episode

6

-

The Unicorn Whisperer

Although very excited about her upcoming bridal shower, Missy must still finalize various wedding preparations - with no help from Bam. He's too busy getting drunk with Novak while concocting crazy stunts for the Best Man Competition. Worlds collide as Missy plans to enjoy her civilized shower while Bam still lives the life of a bachelor.

Episode

5

-

Flipping the Christmas Bird

Tis the season and Bam and Missy are ready to deck the halls their own special way. While Missy stresses out preparing her first Christmas Eve dinner, Bam decides to spruce up the house, Bam style! The chaos culminates in a Christmas gift that surprises the whole family.

Episode

4

-

Off With Her Shirt

Episode

3

-

Detroit Rock City

With the wedding 8 weeks away Bam and Missy still have no idea where they are getting married. In the midst of wedding chaos, Bam decides to take Missy to Detroit to pick out wedding rings. On the road home Bam and Missy get caught in a blizzard and find themselves stranded in Cleveland. They make the most of the situation, but questions still remain. Will Bam and Missy make it back in time and secure a wedding venue? Or will they be forced to change their wedding date?

Episode

2

-

Open Season On Brides

April persuades Bam and Missy to hire a wedding planner, and Missy shops for a wedding dress.

Episode

1

-

Welcome To Hell

The couple attends the engagement party and look for a wedding venue.

Episode

0

-

April and Phil's Tips for a Happy Mar...

Bam's parents tell their marriage success story.