Watch Be Good Johnny Weir
This reality TV series is about the life of the American figure skater John "Johnny" Weir-Voronov. He won the bronze medal in 2008, Grand Pix bronze twice, is a World Junior Champion, and U.S. national champion 3 times. The series follows him in his regular life as he trains for his competitions, deals with fame and and stress of being an athlete. The show is meant to give the audience a personal perspective of what it takes to be an athlete and the life of Johnny. We only see him on screens and competitions but now we can see what it is like.
Monday 10:00 PM et/pt on Sundance Channel

2 Seasons,

19

Episodes - Currently Airing

January 18, 2010

10

/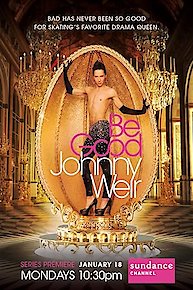 Be Good Johnny Weir

Full Episode Guide
Johnny reminisces about the past year in the Season 2 finale.

Tara nerves are shot as she plans her wedding in addition to an upcoming ice show.

Johnny and his team fly to Sin City to decide where to set the upcoming "Spectacular" show. Meanwhile Josh has big news for Tara.

Johnny must decide if he wants to go back to competitive ice skating. He seeks the advice of his mom and his closest friends.
Episode

9

-

The Future is Mine

Episode

8

-

God Bless America

Episode

5

-

Back in the U.S.S.R.

Episode

4

-

Putting the Johnny in Johnny

Episode

3

-

Johnny on the Rocks

Episode

2

-

Here's Johnny

Episode

1

-

Johnny Weir: Pop Star On Ice