Watch Chef's Table
New York City is one of the most competitive culinary locations in the world. This cosmopolitan city draws the best chefs from around the world and they are at the cutting edge of cuisine. "Chef's Table" brings one of the city's top chefs into the studio to cook some of his or her favorite dishes. Some of them are ones that viewers can recreate at home and some are just ways to show off the chef's skills and imagination. It's a look inside the best cuisine in the world, provided by the talented chefs that make it happen in their restaurants every night.
Watch Full Episodes of Chef's Table

Season 3 Episode 6
Virgilio Mart­nez (51:17)
Season 3 Episode 5
Tim Raue (49:09)
Season 3 Episode 4
Ivan Orkin (52:51)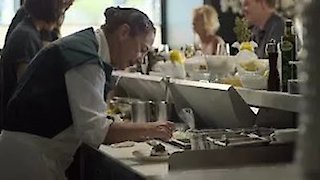 Season 3 Episode 3
Nancy Silverton (45:37)
Season 3 Episode 2
Vladimir Mukhin (54:43)
Season 3 Episode 1
Jeong Kwan (58:57)

Chef's Table

Full Episode Guide
Episode

6

-

Virgilio Mart­nez

Using little-known ingredients from across Peru, chef Virgilio Mart­nez creates gorgeous, edible ecosystems in his innovative menu at Central.

After a stormy youth in the streets of Berlin, chef Tim Raue upended the city's food scene and earned two Michelin stars with provocative new flavors.

A decades-long romance with Japan led New York chef Ivan Orkin to an unlikely new life as a ramen star -- and a master of umami.

Episode

3

-

Nancy Silverton

Driven by an obsession with dough, award-winning LA chef Nancy Silverton built a bread-making empire before reinventing herself as a mozzarella maven.

Episode

2

-

Vladimir Mukhin

At Moscow's White Rabbit, chef Vladimir Mukhin introduces diners to the true spirit of Russian cuisine by giving traditional dishes a modern twist.

In South Korea, Buddhist nun Jeong Kwan approaches cooking as a spiritual practice. But her meals have left some of the world's best chefs in awe.
With his passion for reimagining what traditional Indian food can be, celebrity chef Gaggan Anand created the best restaurant in all of Asia.

Self-taught Slovenian chef Ana Roš uses ingredients from her remote surroundings to create inspired and surprising dishes.

Episode

4

-

Enrique Olvera

Chef Enrique Olvera transforms Mexico's most savory street foods and traditional ingredients into award-winning dishes at his Mexico City restaurant.

Episode

3

-

Dominique Crenn

French-born Dominique Crenn's love for life, family and personal connection helped her become the first two-Michelin star chef in America.

Brazilian chef and adventurer Alex Atala relies on his wild spirit and love for the Amazon to show diners how an open mind pays off in deliciousness.

Superstar American chef Grant Achatz wants to wow diners with mystery, emotion and magic just as much as he does with flavor and beauty.
If You Like Chef's Table, Then Try...
Most Popular Chef's Table Episodes
Season 3 Episode 1

Jeong Kwan

11/30/-0001