Watch Chef's Table
Go into the kitchens of hottest restaurants with the top chefs.
2 Seasons,

18

Episodes - Currently Airing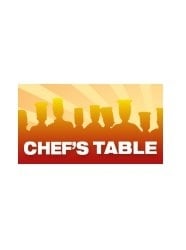 Chef's Table

Full Episode Guide
Episode 3 - Thu, Jan 26, 2012

Miya's Sushi Executive Chef Bun Lai creates a hearty Miso soup and crab poporn.

Episode 2 - Mon, Jan 9, 2012

Chef Coby Ming demo's Americana cuisine

Episode 1 - Mon, Jan 2, 2012

Chef Todd English cooks recipes from his cookbook, "Cooking in Everyday English."
Episode 15 - Wed, Nov 23, 2011

'21' Club Chef John Greeley introduces items from the fresh new Bar 21 menu. Find out how to make a Bar 21 burger and sesame crusted salmon.

Episode 14 - Mon, Oct 3, 2011

Episode 13 - Thu, Aug 18, 2011

Episode 12 - Thu, Jul 28, 2011

Episode 11 - Thu, Jul 14, 2011

Episode 10 - Thu, Jun 23, 2011

Episode 9 - Thu, Jun 2, 2011

Episode 8 - Thu, May 12, 2011

Episode 7 - Thu, Apr 21, 2011

Episode 6 - Thu, Mar 17, 2011

Episode 5 - Thu, Feb 24, 2011

Episode 4 - Thu, Feb 10, 2011

Episode 3 - Thu, Jan 20, 2011

Episode 2 - Thu, Dec 23, 2010

Episode 1 - Thu, Dec 9, 2010